| | | |
| --- | --- | --- |
| Country rank | | 28 |
| Last year's rank | | 47 |
| Region | | Asia |
| Population | | 274 854 000 |
| Christians | | 33 620 000 (12.2%) |
| Main Religion | | Islam |
The persecution of Christians in Indonesia has worsened in recent years. There were three attacks on Christians within a six-month period between 2020 and 2021, killing eight believers, while Indonesian society has taken on a more conservative Islamic character, putting added pressure on Christians. Many converts from Islam experience pressure from their families to return to Islam. There are also converts from Hinduism in Bali.
Churches that engage in evangelistic outreach are at risk of being targeted by Islamic extremist groups. In certain hotspots extremist groups are strong and exert a strong influence on society and politics. In some regions, church groups face difficulties getting permission to build churches. Even if they manage to fulfil all legal requirements (including winning court cases), the local authorities still often ignore them.
What has changed this year? Sadly, the persecution of Christians in Indonesia has worsened considerably, making it one of the biggest risers on the World Watch List, jumping 19 places. The main cause of this rise is an increase in violence. In March 2021 suicide bombers targeted a church in Makassar; thankfully, no one was killed. However, eight Christians were killed in two attacks in Central Sulawesi in November 2020 and May 2021. A terrorist group with links to so-called Islamic State is responsible for the attacks.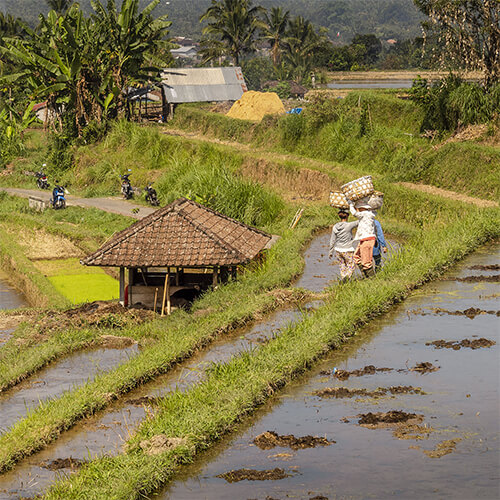 Meet "Wanda"
"One thing that I'm so overwhelmed with is the love from my Christian friends. I feel like I have a new family when my biological family abandoned me. I don't feel alone in this new journey of my life."
Wanda comes from a Muslim background. She became a Christian through a dream and the ministry of her cousin and friend. But she encountered persecution from her family and was forced to move out. When Covid-19 hit, she struggled to provide for herself, until Open Doors local partners stepped in to help.
Pray for Indonesia
Pray for God's comfort and healing for all those affected by the recent attacks on Christians, in which eight believers were killed.
Pray that Christians will be given wisdom and boldness as they follow Jesus in a society that is taking on an increasingly conservative Islamic character.
Pray that the influence of extremist Islamic groups will be snuffed out; ask the Lord to reveal Himself to those who oppose Him.
What does Open Doors do to help Christians in Indonesia?
Open Doors works through local church partners to support persecuted Christians in Indonesia by providing discipleship and persecution survival training, Bibles and Christian literature, socio-economic development projects, relief aid, advocacy support and opportunities for cross-church gatherings.
SIGN UP for our weekly World Watch List prayer update