Christians in Qatar are primarily foreigners who tend to be migrant workers. These foreign Christians are much freer to live out their faith in Qatar than the nationals, although foreigners might also experience pressure. And foreign churches are often monitored by the government and limited to specific areas.
A small number of indigenous converts form the other group of Christians in Qatar. These believers face extreme pressure from their Muslim families and community. The country doesn't officially recognise conversion from Islam, which causes legal troubles and loss of status, child custody and property. Foreign converts from Islam may be able to avoid some pressure by joining a more international community, but the bottom line is that in Qatar both indigenous and migrant converts risk discrimination, harassment and police surveillance for their faith.
What changed this year? Qatar jumped 11 spots from last year's 2022 World Watch List. Violence against Christians rose sharply because many churches were forced to stay closed after Covid-19 restrictions. The rest of the pressures faced by believers in Qatar are intense and a daily burden on those who follow Jesus.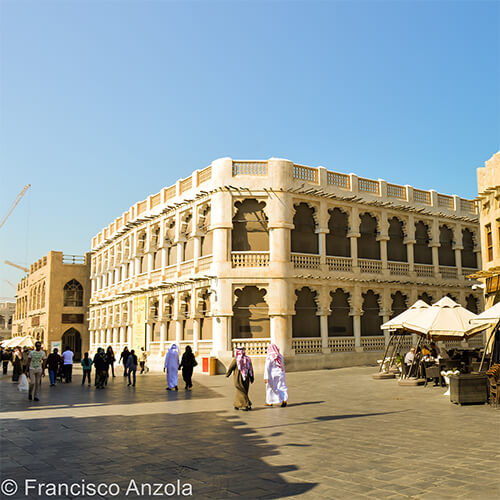 Meet "Pastor Samuel"
"In this Muslim country, we're limited in evangelising too openly. But nobody can stop us from talking to our fellow workers and witnessing to them in our everyday lives. Every day, God gives us opportunities to show His love to others."
Pastor Samuel, a minister to migrants who serves in Qatar.
Pray for Qatar
Pray for the migrant Christians in Qatar. Pray they would be protected from the brutal and abusive treatment that so many foreign workers face in Qatar. Ask God to protect and preserve His people.
Any native Qataris who convert to Christianity must do so in deep secrecy or risk intense persecution from their family and society. Pray that these believers would know they're not alone, and ask God to remind them that He is there and in control.
Pray for the monarchy in Qatar. Ask that God would soften the hearts of the Emir and his government, and that they would open their hearts to the truth of Jesus's love and grace.
What does Open Doors do to help Christians on the Arabian Peninsula?
Open Doors supports the Body of Christ around the Arabian Peninsula through prayer, the distribution of biblical resources and the training of believers and pastors. To protect the people involved, we do not make detailed information on these programmes public.
SIGN UP for our weekly World Watch List prayer update