| | | |
| --- | --- | --- |
| Country rank | | 40 |
| Last year's rank | | 40 |
| Region | | Africa |
| Population | | 92 336 000 |
| Christians | | 87 845 000 (95.1%) |
| Main Religion | | Christianity |
40

Democratic Republic of the Congo
Persecution in the Democratic Republic of Congo (DRC) mostly takes the form of violent attacks. Although a very high percentage of the population are Christians, the Islamic extremist group Alliance for Democratic Forces (ADF) is responsible for the persecution of Christians in the east of the country, brutally attacking Christians and churches. In one district in eastern DRC, there are only four remaining Evangelical churches from 24 that were once active. While persecution is relatively low in other spheres of life, the particularly high level of violence is why the DRC is on the World Watch List top 50.
Converts both from Islam and from indigenous religions face pressure to take part in non-Christian religious activities and ceremonies. Christian leaders who advocate against corruption risk harassment and interference from the government.
What changed this year? Violence against Christians remains very high and continues to be the main form of persecution in the DRC. In 2021, the government announced a state of siege in the north-eastern provinces to curb the violence perpetrated by the ADF – but attacks on communities and churches continued.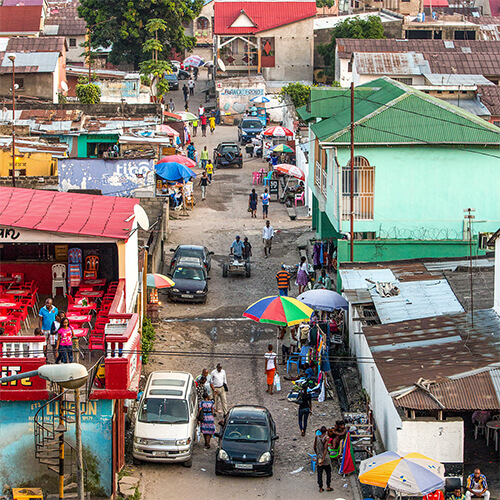 Meet "Georgine"
"I'm pleased to know that people are praying for me, for God to comfort me and my children."
Georgine was widowed by Islamic extremists.
Pray for Congo
Pray that the government will seek real and lasting solutions to the deepening security crisis in the DRC.
Pray that pastors in the east of the country will receive courage to remain, wisdom in preparing the Church for persecution, and compassion when ministering to the traumatised and displaced.
Pray that God will strengthen the Church through the training and trauma care programmes run by Open Doors partners.
What does Open Doors do to help Christians in the Democratic Republic of the Congo?
Open Doors works through local partners to support Christians in DRC through persecution survival and discipleship training, economic empowerment projects and trauma care.
SIGN UP for our weekly World Watch List prayer update