| | | |
| --- | --- | --- |
| Country rank | | 46 |
| Last year's rank | | 46 |
| Region | | Asia |
| Population | | 445 000 |
| Christians | | 53 500 |
| Main Religion | | Islam |
The growing implementation of Sharia (Islamic law) in Brunei – which applies to both Muslims and non-Muslims and has the goal of making the country fully Islamic – is making it increasingly challenging for the country's tiny Christian minority to express and share their faith. Conversion from Islam is illegal, meaning converts can face enormous pressure to renounce their faith in Jesus. Islamic oppression is the main source of persecution in Brunei.
Since Protestant Christian groups cannot be registered as churches but only as secular organisations, they are required to submit their financial and operational reports to the government each year. All church activities are monitored by the authorities and surrounding community, and church leaders are warned against doing outreach or becoming too public. To encourage the spread of Islam, the government has been giving aid to those who become Muslims, which has led to some Christians being coerced into converting to Islam.
In general, the situation for Christians has not changed much in recent years. However, for the last few years, a slowly growing pressure on churches and their activities can be seen.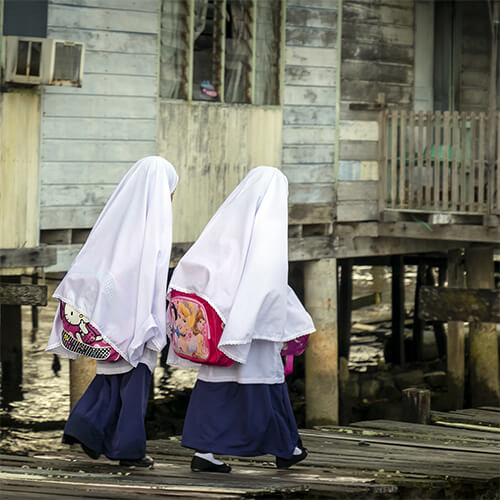 Meet "Elora"
"Believers are not willing to take risks. Parents choose not to send their children to public church events either. Some of my friends have even said they don't see a place for themselves in the Church anymore."
Please pray
That young Christians who are under pressure from peers will have the strength to hold onto their faith.
That church leaders will be given wisdom as they disciple believers whilst navigating government restrictions and surveillance.
That the authorities will have a change of heart and give greater freedom to those who choose not to follow Islam.
How does Open Doors support our family in Brunei?
Open Doors raises prayer support for persecuted believers in Brunei.
Sign up for our weekly World Watch List prayer update