| | | |
| --- | --- | --- |
| Country rank | | 46 |
| Last year's rank | | 39 |
| Region | | Asia |
| Population | | 450 000 |
| Christians | | 42 600 (Open Doors estimate) |
| Main Religion | | Islam |
The sultan is seen as the protector and defender of the Muslim faith, and leaving Islam is illegal. Converts can be punished under penal law, and families and communities will exert great pressure to "bring them back" to their original faith. However, Christians tend not to face outright violence.
Non-traditional Christian communities can't be registered as churches, but have to be registered as companies, societies or family centres. As such, they're treated as secular organisations and are required to submit their financial and operational reports to the government every year. Sharia law continues to be introduced in the country and implemented more widely.
What changed this year? The implementation of the Sharia law penal code has increased insecurity and fear among Brunei's Christian population and has increased the pressure felt by Christians in public and private life.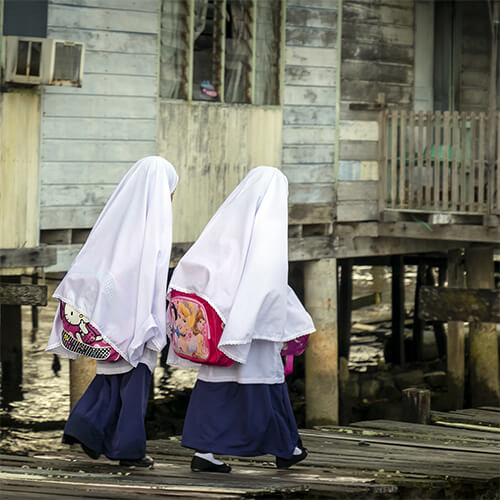 Meet "Elora"
"Believers aren't willing to take risks. Parents choose not to send their children to public church events either. Some of my friends have even said they don't see a place for themselves in the church anymore."
Elora was the only Christian in her school. She has faced a lot of questions and pressure, but still serves God through her church.
Pray for Brunei
Pray for pastors to be strengthened and continually equipped to serve and lead their congregations.
Pray that young Christians would resist the temptation to convert to Islam so they can marry – ask God to encourage younger believers to remain in the country for the long-term health of the Church.
Thank God that He is more powerful than Sharia law and isn't weakened by strict laws.
What does Open Doors do to help Christians in Brunei?
Open Doors raises prayer support for persecuted believers in Brunei.
SIGN UP for our weekly World Watch List prayer update