Vietnam is one of five remaining countries in the world which is still ruled by a Communist party. The government monitors Christian activity and exercises a high level of pressure on all Christians.
Historical Christian communities (such as Roman Catholic churches) enjoy a certain amount of freedom unless they become politically active, which can lead to imprisonment or land-grabbing cases. Evangelical and Pentecostal congregations, most of whom gather in house churches, are closely monitored and face discrimination at various levels.
Converts from a Buddhist or Ethnic-animist background face the most severe persecution, not only from the authorities, but also from their families and communities. Their homes are sometimes destroyed and they are then forced to leave their villages. Since most of them belong to ethnic minorities like the H'mong, the Communist authorities are particularly suspicious of them.
It is getting increasingly difficult to receive information from provinces where most of the H'mong Christians live, as authorities are going to great lengths to hinder any reports coming from there. The situation for these Christians is certainly under-reported. Yet, their numbers are reported to be growing.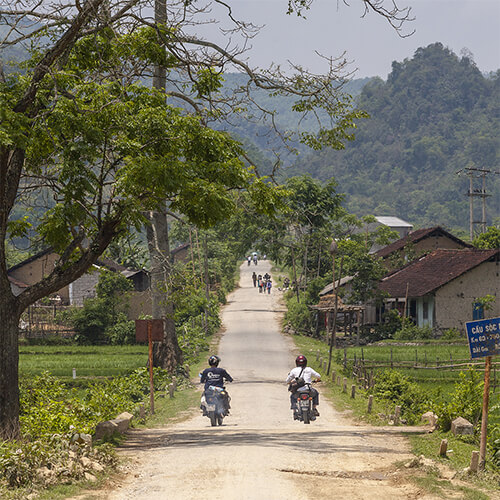 Meet "Nguyen Van Quan"
"When a person or a family in the village decides to follow Christ, they can easily evangelise the whole village and the villagers are likely to believe as well. This is why when someone becomes a believer, he will be kicked out of the village, because the local government is afraid that he will share Jesus to everyone."
Nguyen Van Quan is a Vietnamese-born pastor and Open Doors partner
Please pray
For protection over women in northern provinces who are vulnerable to trafficking.
Thank God that the Church is growing among ethnic minority groups. Pray that new believers will grow in faith and boldness
That leadership and discipleship programmes run by Open Doors partners will strengthen the Church.
How does Open Doors support our family in Vietnam?
Open Doors works through local partners to strengthen persecuted believers in Vietnam by providing relief and practical aid, advocacy support, Christian resources, leadership and discipleship training, and socio-economic development projects.
Sign up for our weekly World Watch List prayer update