| | | |
| --- | --- | --- |
| Country rank | | 27 |
| Last year's rank | | 27 |
| Region | | Middle East/North Africa |
| Population | | 37 498 000 |
| Christians | | 31 400 (0.1%) |
| Main Religion | | Islam |
Article 220 of Morocco's penal code criminalises "shaking the faith of a Muslim". The law puts many Christians, both Moroccan and foreign, who talk to others about their faith at risk of arrest and criminal prosecution. Christian rights advocates have also been targeted by the Moroccan government for their activities and threatened with violent attacks by Islamic extremists. While the law only punishes proselytising, Moroccan converts to Christianity can be punished in other ways, like losing inheritance rights and custody of their children.
What has changed this year? The outlook for Christians in Morocco has worsened this year in Morocco. Pressure increased across the board and violence even rose because several believers were forced to leave the country during the reporting period. Life for Christians in Morocco remains very difficult.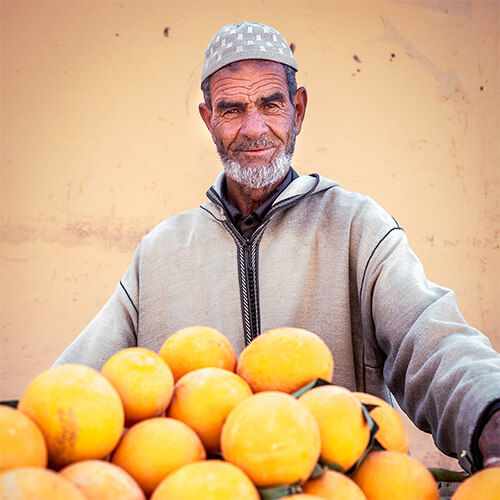 Meet "Nadeen"
"If my father found out, he'd kill me," Nadeen said. And she means it literally.
Nadeen, a young believer who was beaten for becoming a Christian and shaming the family. She had to pretend to return to Islam to maintain peace in her family. But she continues to believe in Jesus in secret. She meets with other believers on a day other than Sunday to avoid further punishment.
Pray for Morocco
Pray with isolated believers in Morocco who must sustain their faith alone or risk house arrest, physical attacks, arrest and imprisonment. Ask the Lord to draw close to His people and fill their hearts with the knowledge of His presence and love.
Pray for tolerance of faiths other than Islam in Moroccan society, with freedom to gather and strengthen congregations that benefit the country as a whole.
Ask God to guide and protect our local partners in Morocco as they reach out to believers who are rejected by their Muslim families or community.
What does Open Doors do to help Christians in North Africa?
In cooperation with local partners, Open Doors supports the Church in North Africa through leadership and discipleship training, Bible and Christian literature distribution, livelihood support, trauma care, relief and legal aid, and women's support groups.
SIGN UP for our weekly World Watch List prayer update