| | | |
| --- | --- | --- |
| Country rank | | 26 |
| Last year's rank | | 22 |
| Region | | Asia |
| Population | | 7 262 000 |
| Christians | | 203 000 (2.8%) |
| Main Religion | | Buddhism |
Christian freedom in Laos is severely curtailed by the intense monitoring of the Communist authorities. House churches that don't have administrative approval are considered "illegal "gatherings" and must operate underground. Even the majority of registered churches don't have permanent church structures and must conduct worship services in homes.
The brunt of persecution is reserved for converts to Christianity, who are deemed guilty of betraying the Buddhist-animist traditions of their community. They frequently face pressure and violence from their families and the local authorities, both of whom will stir up opposition from the local community or religious leaders. This can lead to converts being expelled from the village.
What has changed this year? Despite Laos dropping four places on the World Watch List, the situation for Christians remains largely unchanged. While fewer Christians were arrested compared to last year, an increasing number of converts are being displaced from their homes as they face rejection by their villages.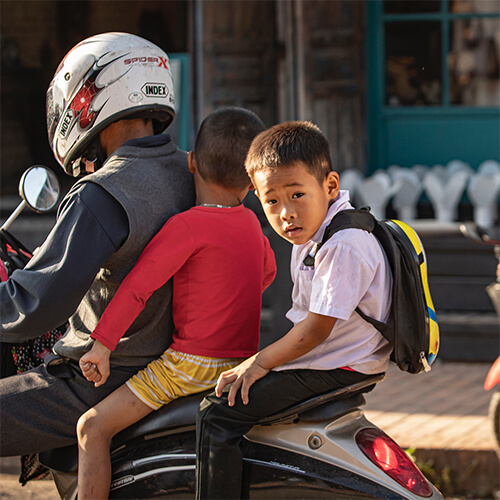 Meet "Soy"
"After I accepted Jesus Christ, I felt like a normal person. My heart and soul were completely healed! However, my happiness was crushed because of harsh persecution. My friends and my non-believing cousins hate me and say mean things to me."
Soy was imprisoned at age 14, along with other believers. They refused to deny Jesus when pressured by the authorities. After being released, Soy encountered further challenges; she was bullied at school and her teachers ignored her.
Pray for Laos
Pray that all imprisoned Christians will be strengthened in body, mind and spirit – and for their imminent release.
Pray that Christians will find increasing favour with local religious leaders and government officials.
Pray for the protection of Open Doors partners and wisdom as they serve our family in Laos.
What does Open Doors do to help Christians in Laos?
Open Doors works through local partners to strengthen persecuted believers in Laos by providing Christian materials, leadership and discipleship training, socio-economic development programmes, advocacy support and emergency relief.
SIGN UP for our weekly World Watch List prayer update