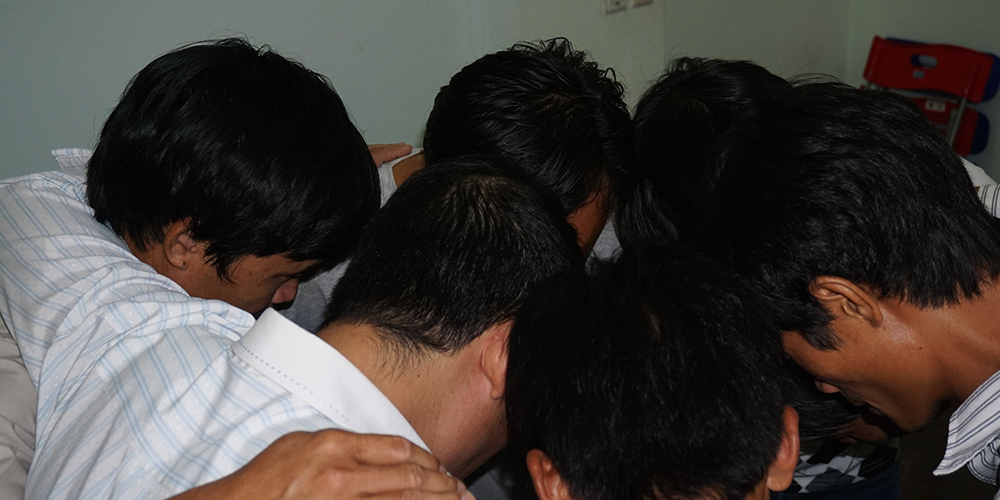 Vietnamese church leaders and workers arrested for believing in God | #Vietnam (slegs in engels)
Three church leaders and siblings, Hung*, Long*, and Viet*, belonging to the Hmong tribe, were arrested by the local police this week in central Vietnam. According to the authorities, the three believers allegedly stole rice from other families in the village, so they were arrested.
"Perhaps this was the reason given by the police so they'd have a valid reason to kick out the brothers from the community. It will be very difficult and sensitive to convict them if they say it's because of religious reasons," said Isaac*, Open Doors local partner.
Although Hung, Long, and Viet were the only ones arrested by the local authorities, believer Phong*, who lives in the same area, has also been experiencing oppression because of his faith since May this year. All of them are the head of their families, which are 16 in total.
Isaac shared that in recent years their area has been a hotspot of persecution for Christians. "Anyone who believes in God is beaten, their houses demolished, and they're kicked out of the village by the local authorities. The local authorities posted an announcement in their office that they don't allow villagers to have any religion other than Animism and Buddhism," explains Isaac.
Therefore, when Hung, Long, Viet, Phong and their families became Christians and started worship meetings in their own homes, they started facing intense persecution from the local authorities and the people in their village.
In May, the four believers, who are their families representatives, were taken to the police station and forced to renounce their faith. They were told that if they didn't obey, their lands and animals would be taken away from them, and they'd be kicked out of the village.
"It's very sad. A few days ago, after these families harvested rice and corn from their farms, the local police and village chief came and confiscated their harvest. They also destroyed their shelters," shares Isaac.
The village chief and villagers didn't allow these families to buy or sell any of their produce. They announced to the whole village that anyone who met with the four families would be kicked out of the village. Along with confiscating their harvests and destroying their shelters, authorities also took away their livestock animals and didn't allow their children to return to school until now. All because they believe in God.
"They've suffered a lot. Previously, they were beaten, and their electricity and water source were cut off.
"The village chief and other villagers also confiscated the tractors of the four families that were provided by the local government as an aid for poor farmers."
But their love for God gave them the boldness and courage to stand firm on their faith.
Despite all of this, they said: "We believe in God. There is nothing wrong with that. We no longer drink alcohol, nor do we sin like before. Why forbid us?"
Throughout their ordeal, Open Doors' local church partner has been providing clothes and food for these families, but it's not enough, as there are 16 of them. It's worse for their children who don't have enough food to eat. Since the start of the persecution incidents, the church partner has been coordinating with the local authorities at different levels, but to no avail.
Five months later, three of them are back in the police station, but not just for interrogation. This time, they've been imprisoned, and at the moment, there is no update on their status.
​​​​​​​Prayer items:
Pray that Hung, Long, and Viet will be released from the police station and for their protection while in the custody of the local authorities.
Pray for Phong and his family that the Lord will protect them and that they will not give up their faith during this difficult time.
Pray for finances so that they can rebuild the partially damaged shelters where their families are staying.
Pray for provision for them and their families, for their source of livelihood to be returned or replaced.
Pray that they will continue to stand strong on their faith and that their faith grows.
Pray for the protection of other Christians who are helping them.
Click here to learn more about believers in Vietnam.
​​​​​​​*Names changed for security reasons