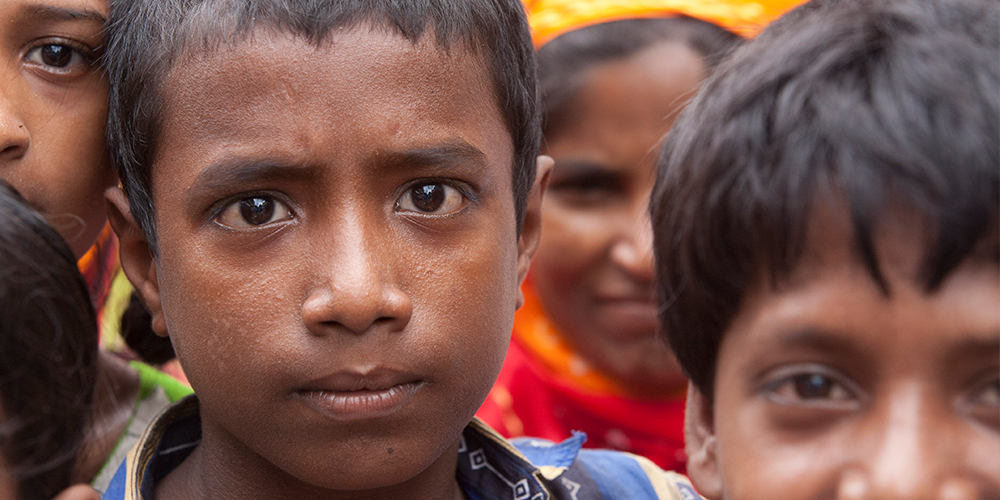 Eight-year-old boy attacked in Bangladesh for his faith (slegs in Engels)
The stories of our brothers and sisters are rarely more difficult than when a young child is the target. And while incidents involving those littlest ones are difficult to report and read about, we share them to mobilise worldwide prayer.
Our partners in Dhaka, Bangladesh, are asking us to pray for an eight-year-old boy who was the target of a twisted persecution act in his own home. Even at his young age, eight-year-old Ariful* (we can't share his real name) already knows the cost of following Jesus where he lives in Bangladesh's capital city, Dhaka.
While Ariful's parents were out working, neighbours stormed into their home. When they saw the young child on his own, they brutally attacked him, pouring boiling water over his head. As the attackers ran out, other neighbours rushed to help Ariful and take him to the nearby hospital, where he spent ten days receiving daily treatments for the severe burns on his head, face, chest and back.
This unthinkable and twisted act happened because Ariful's parents follow Jesus – and left Islam to do so. In their community, leaving Islam to become a Christian is seen as a betrayal and a cultural taboo.
In recent years, Christian persecution has increased in the country as extremists gain stronger footholds. Our local partners tell us that Christians must often gather in secret to avoid violent attacks.
This isn't the first time Ariful's family has encountered persecution for their faith. Before moving to Dhaka, his father, Jahangir* (we can't share his real name), was known as the man who left Islam and dragged his family down with him. Because of his faith, Jahangir struggled to get work in their village and provide for his family. No one wanted to hire a "traitor".
To survive, Jahangir moved his family to Dhaka, where he could get work – a place where no one knew about his lifechanging decision to leave the religion he had grown up in and choosing to follow Christ. Dhaka was supposed to be a "safe place" for the family. But in a country where Christians are only 6% of the total population, their faith would soon be apparent to those around them.
"It is very difficult for the family to hide or keep their faith a secret," our local partner shares. "Only God can protect them."
When Jahangir's neighbours realised the entire family were Christians, persecution quickly followed. For months, the family has endured verbal threats, quarrels and loud arguments. But no one was prepared for this violent and twisted act against a young child.
Mortified by what happened, Jahangir and his wife filed a police report, hoping the authorities would act on their behalf. But nothing has changed. Ariful's attackers are in hiding, and our local partners tell us no suspects have been questioned.
To say the least, Jahangir is distraught and disappointed but continues to do his best to work each day to feed his family and pay for the medication his son needs to recover. The family continues to follow Jesus, even in these difficult circumstances.
Open Doors' local partners have supported the family to help them pay for Ariful's medicine. "Unfortunately, this is not enough for his treatment," our partner shares. "We are continuously praying for Ariful's full recovery."
Please pray with us for Ariful and his family:
Pray for rapid healing and full recovery for Ariful. Pray that he will be able to resume a normal life.
Pray for provision for the medicine and that Ariful will get what he needs. Pray that the medicine will work quickly, with no complications or side effects.
Ask God to calm the hearts of Jahangir and his wife, assuring them that He is with their family, holding them in this darkness.
Pray for the family's protection. Everywhere they go, they face persecution for their faith.
Pray that the attackers will be brought to justice and that they will encounter the only true God.
Pray for the estimated 938 000 Christians in Bangladesh who risk discrimination and persecution for following Jesus and sharing His Gospel.
*Representative names and photo used.