Two South Sudanese Pastors are Found Innocent and Freed
Summary: The two South Sudanese pastors, Michael Yat and Peter Yen, who were charged with a series of offences on 4 May 2015, and if found guilty could have faced the death penalty, were found innocent of all charges on Wednesday 5 August and freed after eight months of imprisonment.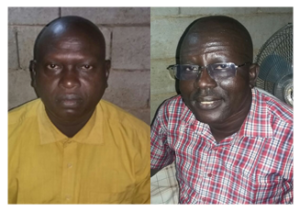 It is with great joy towards the Lord, that Open Doors reports that pastors Michael Yat (left) and Peter Yen (right), two South Sudanese pastors, were found innocent on all charges brought against them on Wednesday, 5 August. According to Radio Tamazuj, the families of the two pastors confirmed their release with great joy. They reportedly underwent procedures for their release yesterday.
Pastor Michael Yat was arrested in December 2014 after preaching at a church in Khartoum. Pastor Peter Yen was subsequently arrested in January 2015, after enquiring about the whereabouts of his colleague, pastor Michael Yat. Both pastors were charged, in May of this year, with offences that carry the death penalty.
Open Doors reported on the arrests and subsequent charges against pastors Michael Yat and Peter Yen on 20 May 2015. Read the full article here.
Join Open Doors in praising the Lord for His faithfulness and grace with the words of Psalm 146:7, "He upholds the cause of the oppressed and gives food to the hungry. The Lord sets prisoners free, the Lord gives sight to the blind, the Lord lifts up those who are bowed down, the Lord loves the righteous".
Read more about the circumstances of the arrests and the charges against pastors Michael Yat and Peter Yen on World Watch Monitor.