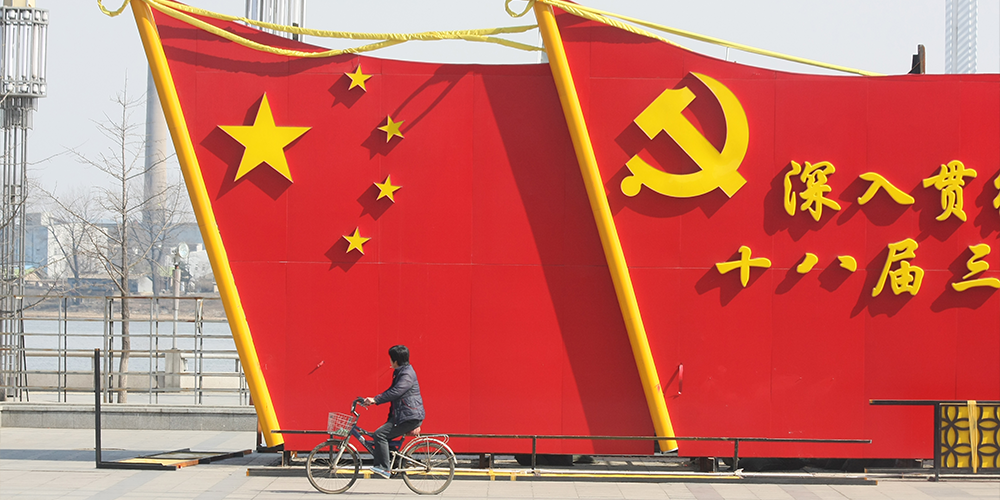 The latest mandate in China: Communist signage for churches
"Love the communist party, love the country, and love the religion." This is the troubling message that all government-sanctioned churches in China's eastern province of Zhejiang are now required to post at their entrances – a direct order from the Chinese Communist Party.
One of Open Doors' local contacts recently reported that the Religious Affairs Bureau of Zhejiang mandated the signage. In addition, churches must also post the message "Adhere to the sinicisation of all religions". Sinicisation is a process intended to shape religious traditions and doctrines to better conform with Chinese society and the objectives of the Chinese Communist Party.
Under Xi Jinping, the general secretary of the Chinese Communist Party and head of state, the goal of sinicisation of all the country's religions has been a key focus of religious policy. In his 2017 report to the 19th Party Congress, he stated: "We will fully implement the Party's basic policy on religious affairs, insist on the sinicisation of Chinese religions, and provide active guidance for religion and socialism to coexist."
We spoke with our local contacts in China to help us understand what this new development could mean for our church family both now and in the future. Li*, an Open Doors' local contact, noted that the signs might confuse some believers, causing them to question whether they are entering a church or a government property. She added that church leaders might also face a greater degree of interference by the authorities, especially in the church's decision-making.
Leaders of the country's government-sanctioned Three-Self churches are concerned about the new practice, Li said. "They have no other options but to follow the new order," she said. "For house churches, they remain underground, not regulated by the law. If house churches are discovered by the local authorities, they will switch to another venue and continue operating.
Zhejiang, a province of 64.6 million people and China's second-richest, is believed to be the first region to run this policy as a test pilot. "We can see that the authorities are testing the waters," Li said. "The government is apparently taking a step further to get the religious sector formalised. More 'illegal' religious venues will continue to experience government crackdown."
The new mandate signals China's ongoing effort to exert more control over churches, sending a clear message that a Chinese citizen's ultimate allegiance should be to their government and nation – even over their God.
Previously, religious venues in Zhejiang were already required to put up posters clearly stating the 12 Core Socialist Values: "prosperity," "democracy," "civility" and "harmony"; the social values of "freedom," "equality," "justice" and the "rule of law"; and the individual values of "patriotism," "dedication," "integrity" and "friendship." Additionally, the government made it mandatory for religious entities to fly the national flag outside their venues.
"These mandates are clearly seen as the will and determination of the Chinese Communist Party to promote patriotism to their people and to remove any Western element they see as a threat to the country's stability," said Yue*, another local contact. "The government doesn't do the "cut" all at once, but slowly from one sector to another," he explained. "For example, first in finance, then human resources, the next generation, and others."
"The situation is now 'wait-and-see,'" said Yushua*, a local contact and researcher for Open Doors. "It's hard to predict what will happen. For example, the incident of cross removal also started out at Zhejiang province a number of years ago. People foresaw that it would be rolled out nationally. But it didn't happen that way. Only a few places have cases like this instead of on a national basis. We will observe more about what will happen in the coming days and discern our next steps."
Pray with us:
For the Lord to intervene in this situation while governors and other government authorities continue to set up and roll out different measures and policies that challenge the growth of the Church.
For His kingdom never to be hindered but to advance even more strongly and solidly.
For His will to be done, on earth as it is in Heaven.
For church leaders to be granted wisdom in navigating ways to live out their faith and be an example to their congregation.
For our brothers and sisters in China to continue to be strengthened spiritually, able to find peace, faith and hope in their walk with Christ.
For more on the country of China and its regulations, click here.
                                                                                    *Names changed for security reasons.