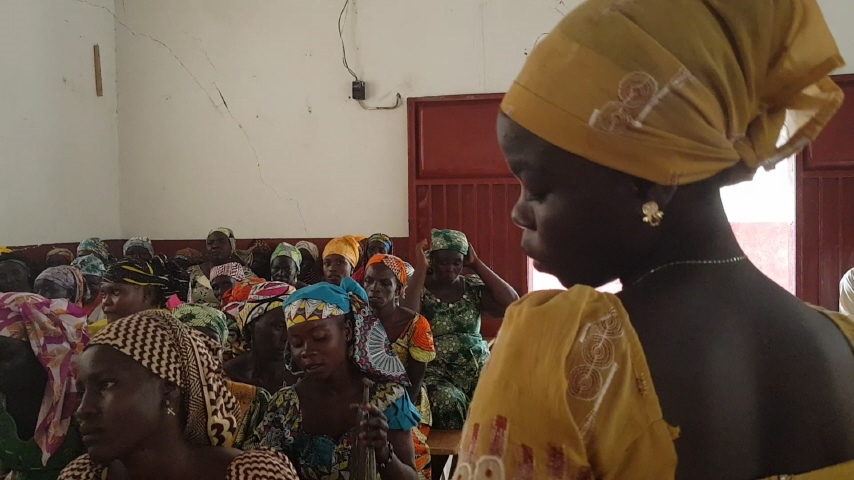 Persecuted women filled with strength and hope!
When we speak of persecuted Christian women, we usually think of the atrocities they face and how they're left doubly vulnerable to persecution because of their gender and faith. However, we're seeing an increase in women who are persevering despite their suffering. But what does it take to be strengthened and encouraged after being a victim of persecution? Your help, prayers and support are what it takes. It's helping strengthen women like Sarata* and give them hope.
Sarata first lost her husband and then her daughter to Boko Haram. The extremist group had started crossing the border into Cameroon from Nigeria in 2013, where they continue to terrify Christians as they do in north-eastern Nigeria.
Sarata's husband had died in 2014 due to the constant stress and fear of imminent attacks that Boko Haram were initiating in her village. He had a heart attack and died. On Thursday, 13 September 2019, Sarata and her children were on their way to the farm when Boko Haram attacked yet again.
"We left early in the morning to walk to our fields that are in the bush. The children were running in front of us, out of sight. Then we met Boko Haram fighters. They passed us without harming us. But when they were far ahead of us, we heard gunshots. I got very scared. They were shooting in front of us, where my children were. 
"I got scared because someone was definitely killed… and the children had gone ahead. I saw how they chased people. I became even more afraid. When they came to me, they asked: 'Where are you going? Were you afraid for these children?' I replied: 'Yes!' I was sure it was the children they had killed…." shared Sarata.
Sarata's fears were confirmed. The soldiers tried to kidnap her daughter Lydia, but she resisted, and they shot and killed her.
With all of the trauma she experienced, Sarata struggled with the Word of God, but she hasn't forsaken the Word, and the elders of the church in her village are proud of her because of that.
We thank the Lord that the church in Sarata's village continues to take care of the widows and other victims of the attacks amid the fear and uncertainty of when Boko Haram will strike again.
Sarata still has some way to go until it can be said that she has come to terms with her trauma. "I want to recover my health, so that I may recover peace. I want these thoughts to go away. Those memories always bother me. I don't know what to do." 
Thankfully, with your support, we've been able to provide Sarata with some emergency financial help to help ease her struggles. "With the money I received, I paid for the children's schooling and farm work. I bought food, and I also saved some [in case] someone gets sick… it really helps me. I thank you because you came to help us. Thank you, thank you! All I can really say to you is thank you."
While Violence against Christians across Africa has risen, for Christians like Sarata, hope too has risen because Christ is risen and because people like you care enough to act. You're helping fill women like Sarata with strength and hope. With your support, Open Doors' vision is to help persecuted Christians grow into strong, resilient and caring communities that can live fruitfully despite the challenges they face. This includes providing them with the care for physical and emotional needs through things such as presence ministry, emergency relief, trauma care and income support.
Women like Sarata still need trauma care and need to find a way to make a sustainable life in the safest way possible. Today, you can make a difference in her life and many other believers in Sub-Saharan Africa. You can help give rise to a hope this Easter, making sure that though they are persecuted, that they are never alone. Click here to support them.
Representative name and image used for security purposes.