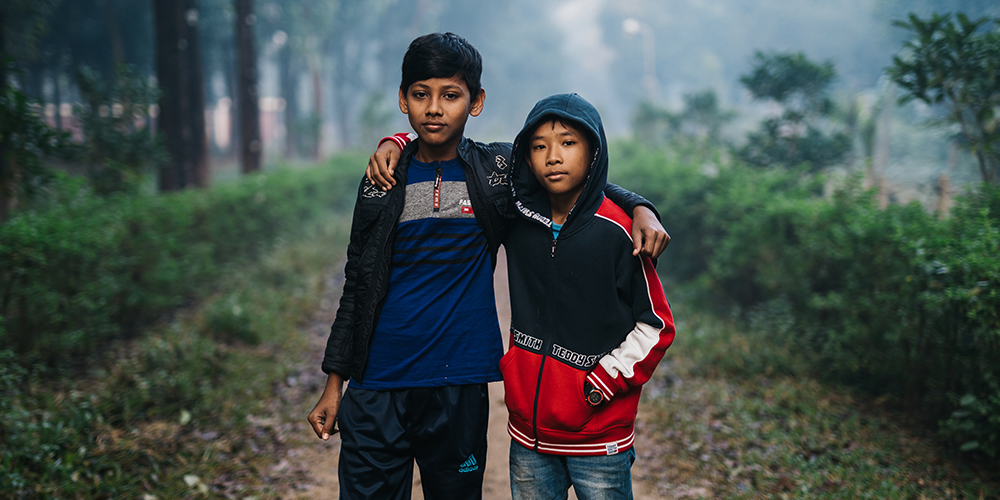 New report shows Christian children face serious violent persecution
With World Children's Day being celebrated on 20 November to commemorate the Declaration of the Rights of the Child by the United Nations in 1959, the spotlight falls again on children worldwide and improving children's welfare.
Therefore, it is shocking to learn that the persecution of Christian children is rising rapidly all over the world and that they often pay a terrible price for their parents' Christian faith. In at least 28 countries the children of Christians and church leaders are targeted with serious violent persecution and treated as commodities.
In countries with persecution, children are extremely vulnerable to the persecution, especially in areas with ongoing conflict. Christian boys are often forced to join military groups and girls are exposed to sexual violence and forced marriages.
New report on persecution of children
These are some of the findings of a shocking new report by the ministry organisation Open Doors International. The report, titled "Children and youth-specific religious persecution 2021", describes the extreme persecution children in countries prone to persecution are facing because of their faith.
Thousands of children all over the world experience persecution, violence and discrimination for their faith. They are targeted to prevent the Church from growing and expanding through the next generation.
The report covers the findings on persecuted children and youth in the top 50 countries on the Open Doors World Watch List, which is an annual list of the 50 countries in the world where it is the most difficult to be a Christian, with persecution being very high or extreme. For the purposes of the study, children and youth were considered to be individuals under the age of 18 years.
Most important findings
The seven most important findings from the report are:
Children and youth are targeted in order to prevent the next generation from building up the Church. Christian communities run the risk of being deprived of the current young generation, as well as future founders of families or leaders in the Christian faith, as children and youth have the potential to revive and perpetuate the Church.
Children of church leaders and converts in at least 28 countries are targeted by perpetrators and violations against the church's most vulnerable and disempowered members. This is a form of punishment aimed at their parents.
The persecution of children aims to shape young people's emotional, psychological and religious identities. At a point in their lives when identities are malleable and in the process of being formed, it limits and skews the choices available to them by influencing them to self-restrict regarding the opportunities and rights they pursue and internalise the dominant religious or ideological identity.
The top three pressure points from state institutions and society are discrimination and harassment via education; denied access to Christian materials, teachings and rites; and denied access to Christian parents. Together, they prevent the next generation from learning about the Christian faith at a formative time in their lives.
Children and youth are treated as commodities and products that can be assimilated into or forced to serve another belief group, rather than considered as individuals who are integral members of their communities with inherent values and individual human rights.
Broadly, both lawless actions and legislation are utilised to varying degrees in different contexts as a means of religious discrimination and/or persecution. Christian children and youth are particularly vulnerable in conflict affected areas. In sub-Saharan Africa, extra-legal violence is a common tool for oppression, whereas in the Middle East and North Africa, state legislation is more frequently used to deny access to legal identity as Christians and to Christian religious education.
Children and youth persecution is inextricably tied to gender-specific religious persecution dynamics. As boys and girls move towards adolescence, the religious persecution they experience is increasingly determined by their gender. Boys in some African and Latin American countries commonly face the threat of forced recruitment into militias, whereas globally girls experience high rates of sexual violence and child/forced marriages.
The top pressure points facing persecuted children and youth are discrimination and harassment via education, denied access to Christian religious materials, teachings and rites, denied access to Christian parents, verbal, physical (including torture), sexual and psychological violence, forced marriages, denied legal identity as a Christian and abduction.
Children must be protected
Executive director of Open Doors Southern Africa, Lynette Leibach, says: "Child and youth-specific religious persecution is a very serious issue that directly influences affected children's wellbeing and opportunities. As the recently released report shows, this persecution has many different forms but the intention behind all of them is to stop or hinder Christian faith and the continuance of the Church.
"I feel saddened at the reality of this issue and the destruction caused by persecution aimed at our family of faith's children. Together, we need to protect them."
Ingrid Smit, a well-known South African social worker, adds: "As a woman, Christian and social worker, the persecution of children breaks my heart. Children are so vulnerable and defenceless. They depend on adults for protection, guidance and provision.
"Children should be nurtured, as the Bible warns us not to lead children astray or harm them. Therefore, any kind of abuse of children is contemptuous, dark and evil; and has a devastating effect on the overall society."
According to Pastor Jackie Gouws, senior pastor at the Rustenburg Baptist Church, children must be well informed about persecution and taught about the dangers that they may face because of their faith. "Persecuted children must realise that Jesus was also persecuted for His faith and that His followers will be persecuted for their faith. It is also vital to keep children in the 'free' Western world informed about life in countries where there is severe persecution – this will help them to be aware of the hardships that persecuted children face."
Errol Otto, youth leader at the Pentecostal Church in Kraaifontein, says: "Children are a living message of the future our generation will not see. We must help innocent youngsters in our society to stand strong against persecution. Thank you to Open Doors for their support in helping persecuted children with food, a safe place to stay and opportunities to go to school. May the Lord continue to use this ministry organisation to do His work and to spread knowledge about persecution all over the world."
Methodology of research
The report was authored by Open Doors World Watch Research (WWR). Data was gathered from Open Doors' field staff and field contributors, external experts and WWR persecution analysts. As part of the data collection process, regionally based experts collected qualitative data from trauma specialists, church leaders, focus groups and local persecution experts.
Although the research studies the experiences of Christian children and youth, the authors presumed that these tactics are not unique to Christian populations. There is a need for far greater understanding of how children and youth around the world are vulnerable to violence, discrimination and harassment because of their religion and their association with Christian parents and communities.
 Open Doors Southern Africa (ODSA) forms part of the Open Doors International ministry, which serves persecuted Christians in over 60 countries across the world by delivering Bibles and Christian literature, visiting persecuted Christians, discipleship and training, offering emergency aid to victims of persecution and natural disasters, and speaking out and raising awareness through advocacy.