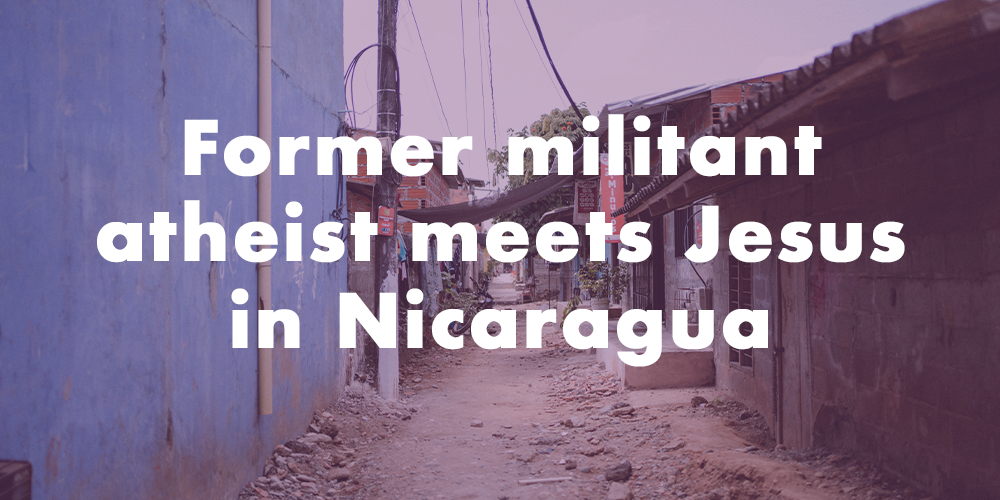 Former militant atheist meets Jesus in Nicaragua
The mark on Pastor Dario's house is more than just paint. It's a symbol of transformation – both a life and heart change. In Nicaragua, where the Church is under intense scrutiny, the mark is also a beacon for brutal and persistent persecution. Pastor Dario* and his family know this too well.
The painted symbol identifies the church leader as a member of the opposition to the Nicaraguan government, which is led by President Daniel Ortega. Dario's family receives daily threats and armed police officers, as well as various paramilitary groups, maintain constant surveillance on his home.
A former life
But Pastor Dario wasn't always seen as an opponent to Ortega's government. At one time, he was part of the group that now targets him.
Like many young people at the time, Dario proudly joined the 1979 revolution to fight against the Somoza family dictatorship that brutally ruled the country for 42 years. He was only 14 years old when he was recruited to be part of the Sandinista National Liberation Front. Back then, he declared himself an atheist and quickly rose through the ranks of the rebel movement, as the guerrilla group fought for eleven years before finally overthrowing the Somoza regime.
One of Dario's primary duties as a militant was to recruit young people like himself for the Sandinista cause. He was even sent to Germany for ten months for intensive training in Sandinista ideology, which is rooted in Marxism.
When Dario returned to Nicaragua, he focussed on politics and joined the Sandinista National Liberation Front, where he led several political and social programmes, intending to strengthen the communities where he lived. Dario was well on his way to becoming a high-profile Sandinista political leader.
But God had other plans.
A new beginning
Still working in the Sandinista movement, Dario met and married his wife. But it wasn't long before the couple started having problems. Ironically, their conflict would be the beginning of the next part of Dario's life. Looking for help for herself and her marriage, his wife met Jesus. But her conversion didn't sway her husband.
"From the moment my wife met Jesus, I did not want to go to church or know anything about Him," he remembers. "I pressured her to leave Christianity, inviting her to go out and drink with me."
Still, she stood firm and continued growing in her newfound faith while Dario stood staunch in his atheist beliefs and Marxist ideology.
So, what happened five years later surprised everyone. Dario began attending church services with his wife. In the beginning, he says he went to keep an eye on her. "I started going with her to see if she was in church for some other man," he says. "Every time I went, my intention was to make her jealous and bother her." But God used that time to work in Dario.
One night, Dario dreamed he saw Jesus. "In the dream, I saw myself in a temple, and a person was repeatedly telling me to accept Jesus. I managed to leave the temple and then saw Jesus, who also told me to accept Him," he says.
Soon, the dream would become a reality as the atheist and militant Sandinista leader surrendered all, praying and asking Jesus to come into his heart and change his life. "I woke up my wife and told her about the dream and immediately accepted Jesus," he says.
Now there were two Christians in their family, and Dario says his mentality began to change as his thoughts and actions were renewed – and he began to leave his old life behind. Soon, God would call this Saul-turned-Paul to lead His Church and be a witness for His Gospel in the city where he lives.
A church under siege
During the deadly 2018 mass protests against President Ortega's government, Pastor Dario felt God was asking him to pray for his city. So he took his Bible and went to the streets with a group of fellow Christians, publicly and boldly praying for protestors and anyone wounded in the protests. He believed his mission as a pastor was to pray and bring hope to the country.
Dario's three children, all university students at the time, expressed a desire to join the demonstrations. Although Dario knew the very real risks of protesting against the violent group he was once a part of, he agreed with his children that they had the right to raise their voices. "I don't like injustice," Pastor Dario says.
As expected, Dario's and his family's actions didn't go unnoticed by Ortega's suspicious regime. He was accused of inciting violence and labelled an enemy of the government. The protests were the start of the ongoing feud between the Church and the government.
Pastor Dario is one of numerous church leaders the government has targeted. Authorities cracked down on the Church, imposing a ban on religious processions in the streets, preventing church leaders from holding services or masses and summoning them for regular questioning.
"In 2018, they lost the streets," Nicaraguan sociologist, Oscar René Vargas, told the BBC. "The repression was carried out so that people wouldn't return to the streets again." Currently in Nicaragua, the Church remains under siege. President Ortega, who has been in power since 2007, has declared war on anyone opposing his government, including clergy members and other religious leaders who dare to speak up and criticise him.
Today, clergy members, pastors, missionaries, parishioners and entire congregations live in fear of harassment and persecution. The surveillance continues. As a result, many people feel that professing their faith openly is becoming increasingly dangerous.
Despite the pressure and the mark on his house, Dario continues the work and mission he was called to years ago, as he and his wife lead the church. "We are dedicated to pastoring – however, we are aware that we are in the crosshairs of my former Sandinista companions," Dario explains. "They sometimes go to the church to listen to my sermon to see what I'm preaching."
He remembers how he once prayed for a police officer. "She accepted the Lord and converted," he says. "We never saw her again, but this drives me to continue our ministry. We are clinging to God and devote much time to prayer and evangelism. We believe prayer has helped us endure this persecution."
Please join us in praying for the Church in Nicaragua. Click here to partner with us in prayer.
*Name changed for security reasons.