The first thing that many persecuted Christians ask for is prayer.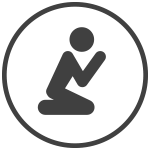 Pray
Prayer Point for Today
The pandemic has made life difficult for many people in Tunisia. Pray that the people can slowly build up their lives again. Pray especially for isolated believers to find one another so they can grow together in their love for the Lord.
PRAYER ALERTS
At Open Doors, we often receive urgent prayer alerts from those on the ground in closed countries. If you would like to receive these alerts, as they come in, please complete the form.