The first thing persecuted Christians ask for is prayer.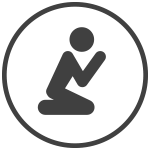 Pray
Prayer Point for Today
18 January 2022
Arabian Peninsula – A believer in the Arabian Peninsula experienced many serious challenges because he accepted Christ. In his efforts start afresh, he changed his name, which resulted in him losing jobs and being ostracised. Pray that God will minister to him.
PRAYER ALERTS
At Open Doors, we often receive urgent prayer alerts from those on the ground in closed countries. If you would like to receive these alerts, as they come in, please complete the form.