The first thing that many persecuted Christians ask for is prayer.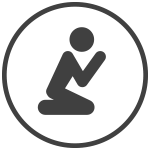 Pray
Prayer Point for Today
Farida's* husband left her because of her faith. Pray that she'll not lose her young son too. Pray also that God will grant her wisdom as she lives for Him and provide in her every need.
PRAYER ALERTS
At Open Doors, we often receive urgent prayer alerts from those on the ground in closed countries. If you would like to receive these alerts, as they come in, please complete the form.