The first thing persecuted Christians ask for is prayer.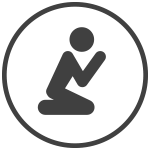 Pray
Prayer Point for Today
When three underground churches were closed, three families from a Muslim background opened their houses for meetings but had to stop because of the pressure from their Muslim relatives and communities. Those house churches were vital for local believers. Pray for a chance for those churches to meet again.
PRAYER ALERTS
At Open Doors, we often receive urgent prayer alerts from those on the ground in closed countries. If you would like to receive these alerts, as they come in, please complete the form.