The first thing persecuted Christians ask for is prayer.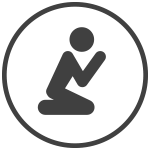 Pray
Prayer Point for Today
Pray for persecuted church leaders in Tizi Ouzou, forced to close their churches. Pray fellowships can be established, and believers can worship without threats to their lives. Pray for peace, wisdom and guidance for their flock.
PRAYER ALERTS
At Open Doors, we often receive urgent prayer alerts from those on the ground in closed countries. If you would like to receive these alerts, as they come in, please complete the form.