The first thing that many persecuted Christians ask for is prayer.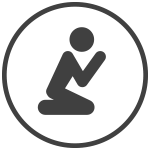 Pray
Prayer Point for Today
7 August 2020
Southern Philippines – The pandemic is affecting our work in this country. A team member shared: "It's a challenge for most of us to reschedule training and seminars that have already been planned. We need wisdom and guidance for what is yet to come." Pray for wisdom and encouragement for the team.
PRAYER ALERTS
At Open Doors, we often receive urgent prayer alerts from those on the ground in closed countries. If you would like to receive these alerts, as they come in, please complete the form.