The first thing persecuted Christians ask for is prayer.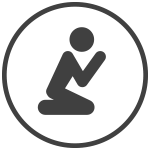 Pray
Prayer Point for Today
30 November 2020
Worldwide – Pray that in this season, God will mightily use the worldwide Body of Christ to be a living testimony for Him. Pray that we'll also be a pillar of strength for one another as we deal with the effects of this pandemic in our own lives. May we hear and obey what God wants us to do in this difficult season.
PRAYER ALERTS
At Open Doors, we often receive urgent prayer alerts from those on the ground in closed countries. If you would like to receive these alerts, as they come in, please complete the form.