The first thing persecuted Christians ask for is prayer.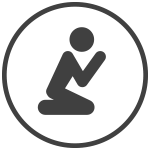 Pray
Prayer Point for Today
29 March 2023
Palestinian Territories – Many Palestinians lose hope because of the political and economic situation, including Palestinian Christians. Pray that the churches continue to be places where people find hope.
PRAYER ALERTS
At Open Doors, we often receive urgent prayer alerts from those on the ground in closed countries. If you would like to receive these alerts, as they come in, please complete the form.