The first thing persecuted Christians ask for is prayer.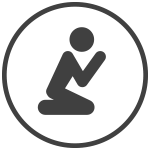 Pray
Prayer Point for Today
8 December 2021
Burundi – When Jamal*, a former imam, became a Christian, his village was furious, and his wife tried to poison him. He was forced to flee and is hiding in a nearby town. Pray that the Lord will help Jamal find a church where his faith and understanding of the Word can grow strong.
PRAYER ALERTS
At Open Doors, we often receive urgent prayer alerts from those on the ground in closed countries. If you would like to receive these alerts, as they come in, please complete the form.