God's Word is filled with an abundance of gracious words. Words that can heal wounded spirits and broken hearts, ease worried minds, and instil hope in trying times.
When we encourage persecuted Christians we give them hope, help nurture patience, and make it easier for them to love as Jesus loves. You can write gracious words to our persecuted brothers and sisters, and strengthen them in the faith as they advance God's Kingdom where faith costs the most.
Please post all letters to:
Letter Writing: Believer's Name
c/o Open Doors SA
PO Box 1771
Cresta 2118
Once you've posted your letter, remember to pray for the person you've written to. Your prayers really make a difference!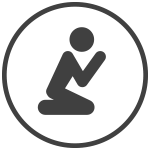 Pray That:
Your letter will arrive safely at its destination.
The recipient will be blessed by what you've written and comforted by the knowledge that you are praying for them (Romans 15:30).
God will give the recipient strength to persevere, and that they will know His compassion and mercy (James 5:11).