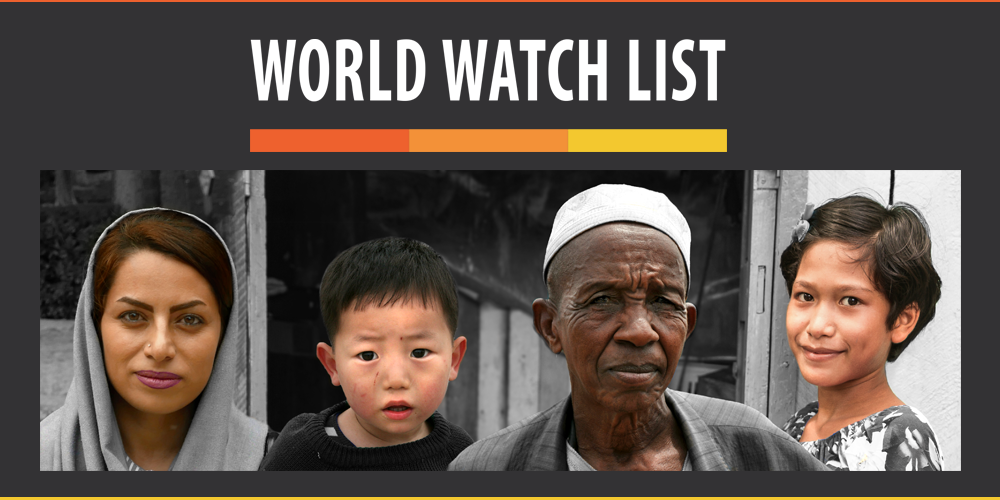 World Watch List 2018 : 1 in every 12 Christians suffer "extreme" levels of persecution
Globally there are 2.48 billion Christians. Out of these, approximately 215 million or 1 in every 12 Christians in the Top 50 countries of the World Watch List, is considered to be suffering from "extreme" levels of persecution, according to the Open Doors 2018 World Watch List (WWL), released today.
Every year, Open Doors publishes the World Watch List, the list of the top 50 countries where it's hardest to be a Christian. The WWL measures the types of persecution Christians all over the world experience from their government, community and even their own families. It also accounts for the restrictions Christians face in their private lives, their ability to meet and worship with other believers, as well as the physical violence they are subjected to.
This year, North Korea and Afghanistan scored highest in the persecution of Christians, topping the 2018 WWL. Although completely different in politics and social structure, research for the period November 2016 – October 2017 showed these two countries receiving maximum scores for pressure on Christians. Only the score for violence made a distinction between first and second place. It was, however, Pakistan which had the unenviable honour of being the only country on the 2018 WWL to score maximum points for violence against Christians.
The top ten countries where Christians currently face the most persecution are:
#1 North Korea (94/100)
#2 Afghanistan (93/100)
#3 Somalia (91/100)
#4 Sudan (87/100)
#5 Pakistan (86/100)
#6 Eritrea (86/100)
#7 Libya (86/100)
#8 Iraq (86/100)
#9 Yemen (85/100)
#10 Iran (85/100)
Source: Open Doors/World Watch Research
New to the Top 50 and risers
Libya (86 points/Rank7) and India (81 points/Rank 11) are the biggest risers in the 2018 WWL, both rising by 8 points, which in the case of India was clearly due to the increasing influence of radical Hinduism. In the 2018 WWL reporting period, at least 8 Christians were killed for their faith by militant Hindus, at least 34 churches were damaged, and close to 24 000 Christians suffered attacks in India.
New countries that have entered the Top 50 this year, are Nepal (64 points/Rank 25) and Azerbaijan (57 points/Rank 45). Nepal has seen a strong rise in Religious nationalism, with Hindu radicals becoming much more active both in putting pressure on Christians and in perpetrating violence. In Azerbaijan, increased access to information through police raids and arrests has caused a rise in score among other factors.
Over 3 000 Christians killed for their faith
According to Open Doors research, an estimated 3 066 Christians were killed worldwide in the 2018 WWL reporting period. As can be seen in the table below, the number of Christians killed for their faith has risen again after a decrease in the 2017 WWL period.
Total recorded no. of Christians killed:
2018 WWL: 3 066
2017 WWL: 1 207
2016 WWL: 7 106
Source: Open Doors/World Watch Research
That decrease was due especially to a reduction in Boko Haram activity in Nigeria in the 2017 WWL reporting period. However, the killings in Nigeria have risen again due to waves of attacks by well-armed Fulani Muslim herdsmen on Christian communities in the Middle Belt states and reports are naming this "religious cleansing" (ethnic cleansing based on religious affiliation).
"Violence against Christians here on our continent of Africa has increased dramatically – it is particularly the Church in countries like Nigeria, Central African Republic and the Congo (DRC) that is bearing the brunt," says Jan Gouws, Executive Director of Open Doors Southern Africa.
Measuring persecution is more than just recording violent incidents
Persecution does not always mean killings or long prison sentences. The Maldives is a good example, with 78 points at Rank 13. Although reports of violent incidents against Christians are few in this supposed holiday paradise, research into the church life in the Maldives showed that pressure is at a maximum level.
As the Managing Director of Open Doors' World Watch Research team, Frans Veerman, explains: "No church meetings are possible there and even most expatriate Christians prefer not to organise meetings out of fear of repercussions. By reading the individual country profiles, the numbers in the list suddenly take on real depth of meaning."
Making the plight of persecuted Christians public
The Open Doors World Watch List and the in-depth country profiles are published annually as a tool for 1) media to raise awareness 2) politicians to make informed decisions and 3) churches around the world to support Christians on the frontline.
For more information or to set up an interview, e-mail [email protected] or phone (011) 888 9341.