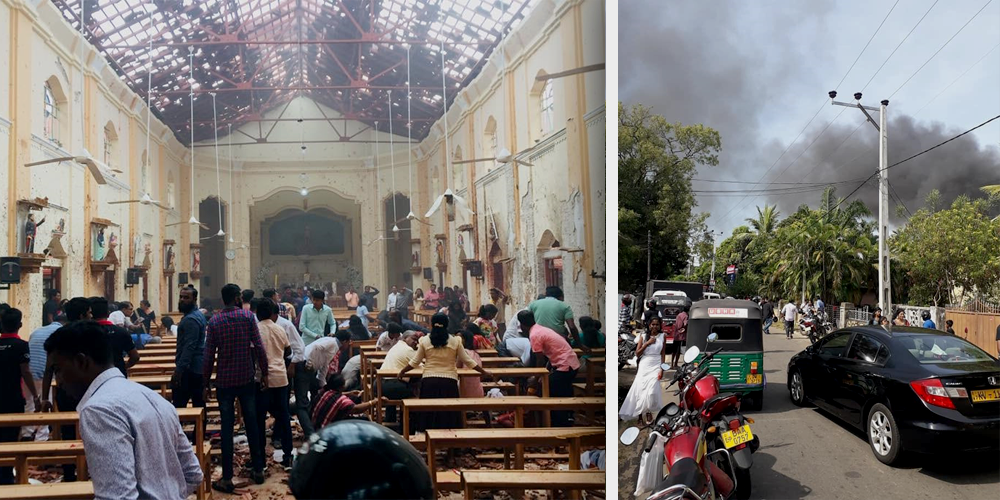 Sri Lanka Bombings: "…weep with those who weep." (Rom 12:15)
On Easter Sunday, 21 April 2019, Sri Lanka was rocked by a series of the deadly attacks. Eight explosions, killed over 200 people, wounded over 450 and destroyed 1000s of lives.
Three churches and three hotels were initially bombed, at least one of them by a suicide terrorist. Two other explosions took place later. One at a house were the police tried to arrest suspects, one at a guesthouse, according to the latest information available.
The six initial blasts occurred in St Anthony's Church in Kochcikade, Colombo, St. Sebestian's Church in Negombo, Zion Church in Batticaloa, and at the Kingsbury Hotel and the Cinnamon Grand Hotel in Colombo. The five-star hotels all offered special Easter themed breakfasts today, while all churches celebrated the resurrection of Jesus Christ with an Easter service. One explosion occurred in the residential district Dematagoda and one in a hotel near Dehiwala Zoo.
No group has claimed responsibility yet, but the police report the arrests of seven people. The Sri Lankan government asks the media not to publish the names of the suspects. That would give other extremist groups the chance to exploit the situation and create tension between the communities.
What Open Doors says
Open Doors condemns in the strongest terms the recent blasting of the churches and hotels in Sri Lanka, the worst attack against churches on an Easter Sunday in history. Like the rest of the world, we are horrified to witness the merciless terror by extremists.
Religious attacks of this type, scale, and severity are unprecedented in Sri Lanka considering Open Doors' decades of observing, visiting, listening to and serving the minority Church in the country. Attacks on Christian churches and believers have been confined in certain areas of the country, usually at the village level, and with no bombs involved.
We stand in solidarity with the hundreds of Sri Lankan families who are now grieving for the loss of their loved ones and friends to these terror attacks. We mourn with the families of foreign nationals who died in the spate of bombings in the three hotels. There are no words to describe the pain they must feel.
We also express our support to the Sri Lankan government in its rigorous investigations on the attacks. We support its call for cooperation not to spread unverified information.
What is Open Doors doing to help?
 A co-worker of ours, Sunil * left Colombo eastward as soon as he heard the news but was stranded mid-point due to nationwide curfew and social media ban. "Today, (before continuing my travel to Batticaloa), I spent time first to pray and read God's word," says local co-worker, Sunil. "I'm going there to meet with pastors and pray with them."
 He explains that the objective is now to be with them, listen to them, pray with them, and to learn from them what their immediate needs are. Through him and our partners, we're closely monitoring the situation and will share prayer points as soon as they come up.
At this time Open Doors are not giving any relief or other practical aid to the victims. As a persecuted church driven ministry, we assess the needs first, discuss them with our partners and help where most needed.
How can the Global Church help?
Open Doors will provide more information in the coming days on specific ways to help and support.
For now, we encourage our supporters all over the world to fervently pray for and intercede on behalf of the Sri Lanka Church. We know from others who have been traumatized in vicious attacks, that it's incredibly hard to pray in times of crisis. So please, pray hard for the Christians. See the prayer points below.)
We will also provide live updates and prayer requests through our various online platforms [of DEV bases] as we receive them from Sunil and our ministry network in the country.
At this time, we ask our supporters also to share words of prayer and encouragement to the members of the churches in Batticaloa, Kochchikade, and Katana through our social media channels. We encourage sharing of photos of supporters praying together for Sri Lanka.
We also request you to remember our co-worker Sunil and our partners in your prayers. Pray for their protection in their travels to affected areas. Pray for strength of heart, mind, and body as they provide much needed presence ministry to the families of victims.
"…weep with those who weep." Romans 12:15