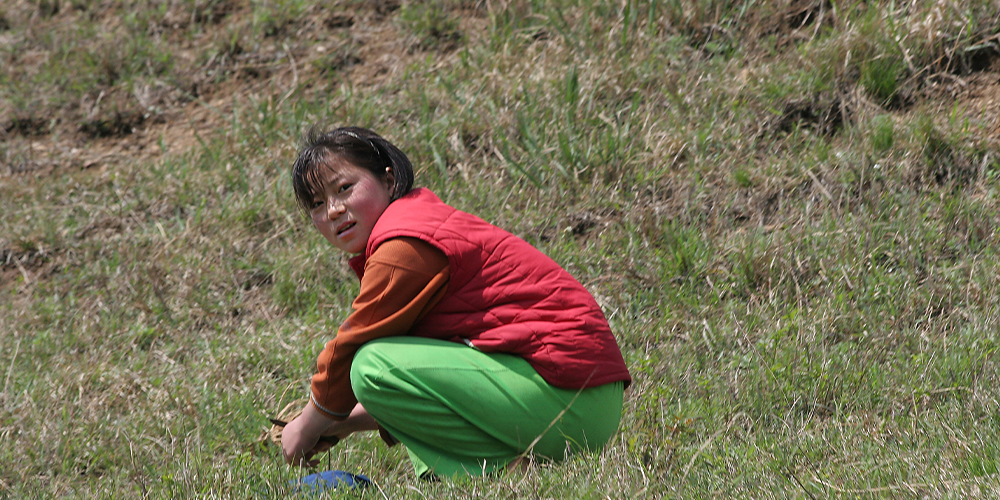 North Korea: Pray as the country faces a brutal food shortage
As North Korea nears the end of its planting season (its main food source, rice, is planted in the late spring and early summer), reports are leaking out about the country's dire food situation. The winter cold may be over, but now the country is facing a food shortage as supplies have been exhausted.
In response, and to try to restock food supplies, North Korea has launched a "rural mobilisation campaign" in which soldiers and non-farming civilians are "asked" to do agricultural work. In reality, these campaigns are demands and refusal is not allowed under the North Korean regime.
This year, as reported by DailyNK, many people are refusing to participate in the mobilisation campaign. The agricultural work is usually very difficult – involving long hours of hard labour, often with an empty stomach. Farms are experiencing a labour shortage and, as DailyNK reports, many people have tried to avoid the work despite North Korean authorities' response of setting up checkpoints to catch people avoiding the mobilisation.
However, many North Koreans take the risk. They are too hungry and don't receive rations through either the farms or their own neighbourhood units. Every North Korean citizen is placed in a neighbourhood unit, which is responsible for monitoring its members, disseminating propaganda and distributing food coupons.
A new report from the BBC makes it clear how dire the current situation is in North Korea. One woman in Pyongyang told the BBC she went to check on her neighbours. "I knocked on their door to give them water, but nobody answered," Ji Yeon said. Her neighbours had starved to death at home.
The same BBC report notes that the borders have remained closed since 2020, due to Covid-19 restrictions. This has led to tightening restrictions for people trying to cross the border to China, where they hope to gain access to lifesaving food and other aid.
In the meantime, food prices have skyrocketed. A kilogram (previously a little more than R40) now costs more than 5 000 North Korean won, which is the equivalent of an estimated R105. A kilogram of corn costs about R53. When you consider that the average salary for a North Korean is only 5 000 to 10 000 won per month (R97 to R195), you begin to see how devastating the current crisis is. It's incredibly difficult to survive on such meagre rations.
The North Korean government has announced that it is importing more rice from other countries, but many people do not benefit from this. "Because of the lack of food in North Korea, the government has been importing large quantities of food from China," says Brother Simon Lee*, the Open Doors coordinator for our North Korea ministry.
"According to up-to-date news from North Korean believers, the imported food was distributed primarily to the high-ranking government officials and then to the soldiers. Only a very small amount was released into the market for ordinary people. This is why hunger continues throughout the country."
For Christians in North Korea, this reality adds to the painful experience of being hunted for following Jesus. North Korea, which is number 1 on Open Doors' 2023 World Watch List, is the most difficult place in the world to be a Christian. Someone who is caught for being a Christian, risks arrest, imprisonment and even immediate execution. Add to this the daily pressure of food insecurity and mobilisation orders, and life becomes extremely difficult to bear.
Open Doors supports North Korean Christians through our secret networks in China. Christians who can get through the borders, even during increased restrictions, are able to find food aid and help. Our safe houses can aid a little less than 100 people at a time, but thanks to your support, we are able to help people as they come and go – including those who return to North Korea, where they continue to be salt and light for Jesus.
Obviously, this level of help is only the minimum in the face of such a significant food crisis. But Brother Simon tells us that God still finds a way to show His mercy and grace through His people in North Korea.
"Inspiring stories are told to us about North Korean believers who are helping their neighbours – sharing food, medicine and other resources they own, even although the food is not even enough for themselves," Brother Simon says.
"Secret believers are practising God's love behind the scenes and thanking us for the help and prayers. All the glory to God, who is feeding His children in this terrible time of starvation and poverty!"
Brother Simon also asks us to stand with North Korean Christians in prayer. "Underground Church believers are requesting many prayers, as it is helping them to endure this difficult time," he says. "Please pray for them and our ministry."
Here are some specific ways our field team has asked you to pray:
Pray strategically for North Korean Christians. Pray for their physical well-being, that God will provide for them and that He will supernaturally heal the sick.
Pray for protection for this underground Church, so that the evil one cannot attack them.
Pray for their spiritual well-being. Pray that God will grow their faith so that they can persevere.
Click here to stand with believers in North Korea, making sure that although they are persecuted, they are never alone.