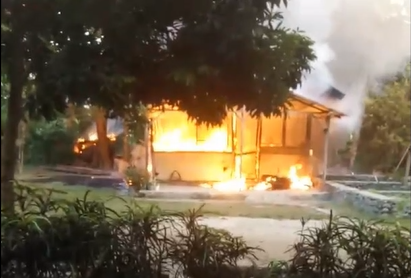 Indonesian Christian village in Maluku was attacked, and two churches burned
On 25 January, a land dispute between two people from different villages on Haruku Island, Central Maluku sparked clashes between residents. The residents of Kariuw village, which is predominantly Christian, were attacked by a group of people who came from Ori village, which is predominantly Muslim.
At the time of the incident, the residents of Kariuw village had to flee to the highlands and the middle of the forest to seek shelter. Dozens of houses and two churches were burned. In addition to that, this clash resulted in the death of four residents of Kariuw.
The residents who fled comprised 264 families who walked all day in the jungle seeking protection while heading to another village, which was about 23.5 km from Kariuw village. According to one of the refugees, the logistics they need are available for now, but she doesn't know how long it will last. Meanwhile, according to her, returning to their village is impossible because this isn't the first time it has happened.
Pray for:
God's protection to surround our Kariuw brothers and sisters while they take refuge in another village. May all their fear and trauma be healed by God's grace.
God's provision as they left behind everything they owned. They need clothes, food, water, and shelter. Ask God to move His children all over the world to take action and help their brothers and sisters in Central Maluku.
Peace between the two tribes. They have a long history of disputes, and it seems impossible to make peace between them. However, our God is the God of peace, and nothing is impossible for Him. He will make a way that no mankind would think of. When there is peace, the Kariuw villagers will be able to return to their homes.
Help support believers in Indonesia with basic necessities, making sure that though they are persecuted, they are never alone. Click here and be a hero of faith.