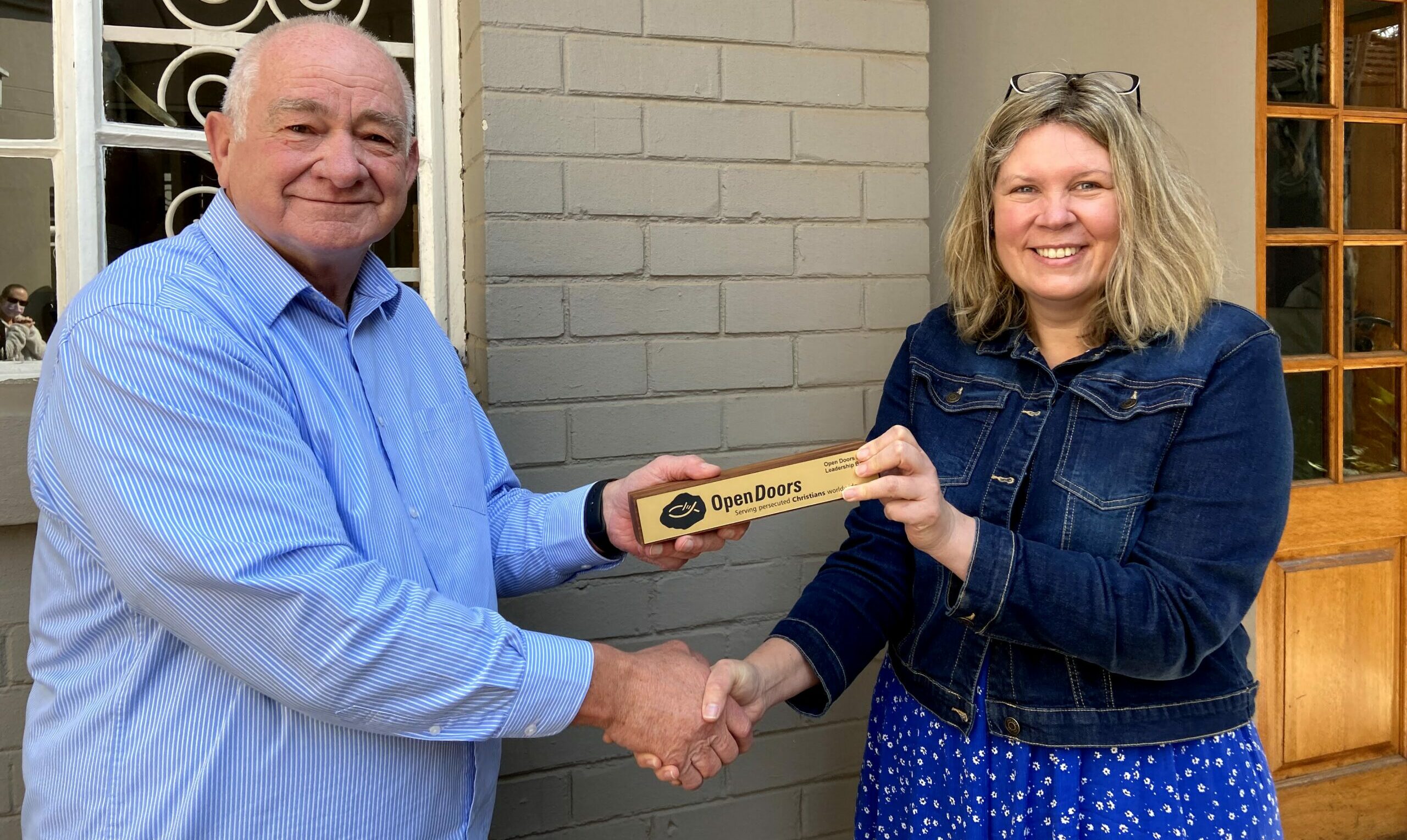 Baton handed over at Open Doors Southern Africa
The ministry organisation Open Doors Southern Africa, which supports and strengthens persecuted Christians all over the world, has recently appointed Lynette Leibach as its new executive director. Lynette takes over the reins from the previous executive director, Jan Gouws, who retired on 31 August 2021 after more than 30 years working for this organisation.
Lynette, who is the first woman in this leadership role at Open Doors, says she is excited to join the team in serving and strengthening Christians facing persecution and oppression across the world. "With Jan's retirement after decades of faithful serving at Open Doors, I'm humbled to join the company as executive director in its jubilee year – celebrating 50 years of existence in May this year. I look forward to connect with our partners and church communities to make an impact on the lives of persecuted Christians on the frontlines."
Background and studies
Lynette grew up in Johannesburg. "My interest in connecting people's desire to help and opportunities to give and act was sparked as a child – seeing my parents' habit of responding to the needs of others, alongside their regular tithing," she says.
She completed a B.Com degree in industrial psychology, business management and marketing, as well as a B.Com Honours degree in marketing, at the University of Johannesburg. Later on, she also completed a qualification in Christian studies through St Stephen's University in Canada and Vineyard Bible Institute.
"As a young adult, I went on a lifechanging church ministry trip to the old Yugoslavia. The aim of the trip was to support the local church in the aftermath of a devastating war. There was a drastic change in my vocational focus after this experience.
"I've been working in various sectors at non-profit organisations since 2003 and several commercial positions before then, mainly in South Africa, the East and Southern Africa region," she says.
Returning from New Zealand
She has been staying in New Zealand for the past four years, where she worked as marketing, fundraising, education and advocacy director at the Christian international development organisation Tearfund, a leading humanitarian organisation.
Previous positions
Before she moved to New Zealand, Lynette worked as continental fundraising advisor and then regional fund development and communications director at SOS Children's Villages International in Johannesburg, a global non-profit organisation that supports and establishes sustainable programmes for children who have lost (or are at risk of losing) parental care.
Other previous positions include being the individual relations manager at the Worldwide Fund for Nature (WWF), fundraising manager at Sparrow Schools Educational Trust, fundraising and communications coordinator at HIV-SA, regional fundraising coordinator at the Cancer Association of South Africa, senior researcher at BMI Research and account manager at Nielsen.
A new season
"I've been blessed in following the Lord into different vocational and life adventures. Now I'm in a new season of dedication and support to strengthen the persecuted Church. I'm looking forward to this challenge and want to lead Open Doors Southern Africa to new heights in this new season," Lynette concludes.
Open Doors Southern Africa (ODSA) forms part of the Open Doors International ministry, which serves persecuted Christians in over 60 countries across the world by delivering Bibles and Christian literature, visiting persecuted Christians, discipleship and training, offering emergency aid to victims of persecution and natural disasters, and speaking out and raising awareness through advocacy. 
Media release issued by Elizabeth Botha
Media and Advocacy Officer: Open Doors Southern Africa
Tel: 083 227 8164 / (011) 888 9341
Email: [email protected]