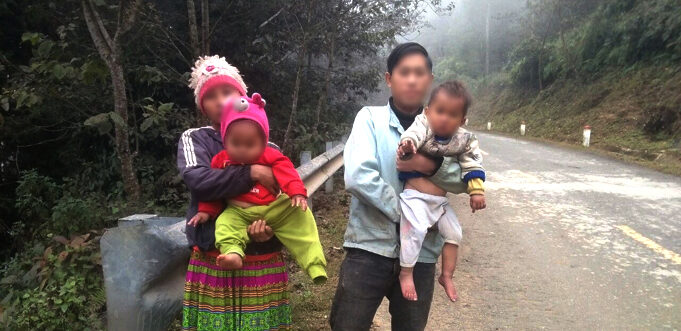 A family in Vietnam stays in a makeshift tent after being driven away by angry villagers for their faith
Ang* and his family stay in a makeshift tent after being driven away by angry villagers for their faith last year for becoming Christians. Initially, the village authorities asked his family to deny their faith. When they refused to do so, the authorities got angry.
"The local authority beat me and forced me, controlled me to sign the document stating that I agreed to leave the village because I didn't renounce my faith," said Ang.
In December, an angry mob of authorities, other villagers, policemen, and the village chief went to Ang's home and kicked his family out of the village. But they first coerced Ang to sign a document saying they're leaving the village in good faith, and that they weren't being persecuted and intimidated to leave. His family left their home in the freezing winter cold. They had nothing but the clothes on their backs when they left. They weren't allowed to take rice, livestock, and other belongings with them.
"They have no compassion for my children. My oldest is almost two years old and the second is only eight months old. They didn't allow us to take anything, not even blankets, for my children. It was seven degrees, a very cold winter." said Ang.
Ang's church has been supporting him and his family through the ordeal. Their pastor went to talk with the local authorities, though this didn't amount to much. A church member living in another village also offered a space next to his house where Ang's family built a makeshift shelter. That is where they're staying now. The church occasionally provides Ang's family with food and other basic needs, but since it's winter, they need thick clothes, blankets, and more food.
Open Doors local partners provided Ang and his family with warm clothes, blankets, and rice. Local partners also helped Ang's family financially to process their family book and national identity cards, which are two important documents for every Vietnamese citizen. They also left extra money with Ang's local pastor to help buy more food for Ang or materials for their new home.
Ang and his family still suffer mentally and are anxious about where they will live and how they will overcome their current situation.
Please pray that God will provide them with finances so they can buy a house and a farm in a place that is near their relatives.
Pray for the immediate processing of the family's Family Record Book and Identity Cards so they can transfer easily to their relative's place.
Pray that they will stay strong in their faith in Jesus despite the persecution.
Pray for wisdom for the local pastor and our local partner, who will arrange a place for Ang's family to stay.
You can partner with believers in Vietnam and many other countries around the world and be a hero of faith by helping believers like Ang, making sure that though they are persecuted, they are never alone. Click here.
*Name changed and faces blurred for security reasons.