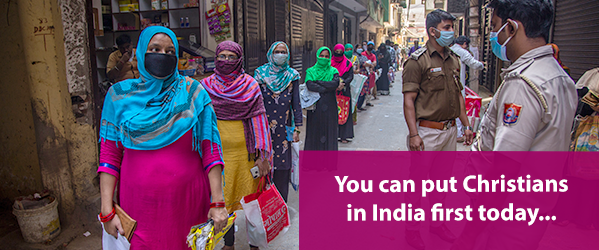 Even before the pandemic they were isolated, rejected and despised by their communities. Today they face an even bigger obstacle. Starvation.
I know that's a difficult word to hear. It's so stark and dramatic. But it's also the reality that Open Doors partners like Akash* are seeing every day: "People are so scared. They are not able to provide even a single meal for their family. We have to help them – even if it's risky."
Lockdown meant many Indians lost their jobs. Christians are often the poorest in Indian society, depending on daily wages to survive. With no money, they have no food. On top of this, in many places they're neglected when aid is distributed, because of their faith.
I'm so proud of Open Doors partners who are courageously taking vital relief to those who need food and are denied it. And this is only possible thanks to the generosity of supporters, despite the uncertainties of crises in our own nation.
If you are able to give, please continue to do so. Every R200 can provide emergency items like flour, rice, tea, salt, oil, potatoes, soap and masks to last a family for a week. And please pray for God's protection.
*Name changed for security reasons.