World Watch Update: India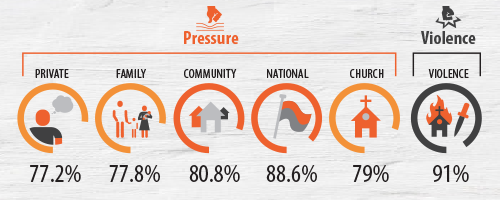 Region: South Asia
2019 World Watch List Position: #10 in the top 50 countries
Leader: Prime Minister Narendra Modi
Population: 1 354 052 000 (5% are Christians)
Main Religion: Religion Hinduism
Government: Federal Parliamentary Republic
Sources of Persecution: Religious Nationalism
Hindu extremists want to see India free of Christians by the end of 2021. Hindu nationalists see being Hindu as part of one's Indian identity – following any other faith is seen as a betrayal. The government, led by a Hindu nationalist party, turns a blind eye to attacks on Christians and other minorities.
Christians make up less than 5% of the population in India, and in rural areas they can be particularly isolated. Believers face beatings, false imprisonment and even death because of their faith in Christ.
Pray for believers in India:
Ask God to protect Christians from a Hindu background.
Pray for Open Doors' partners to help Christians understand their legal rights – and that this will be a powerful tool in helping them defend themselves.
Praise God for the many people coming to faith in Christ through incredible healings – and pray He will continue to use His people to bring healing and hope to many more.