You helped Demiana to find Jesus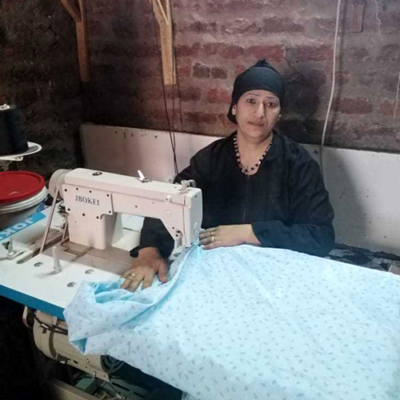 "Where is God?" That was Demiana's* question to our fieldworker Maryam and her team in their first few visits to her in Egypt. Nobody would blame her for that question. She has faced a lot of pain. Her husband died of cancer because they had no money for treatment, her children had to stop their schooling for the same reason and her two sons (6 and 9) had to work in the local bakery to help support the family.
Demiana was so frustrated by her circumstances that she had lost hope in God. So the first went to see her, she was reluctant to even let us into her home when she saw one of our fieldworkers carrying a Bible. "We don't allow visitors for now," she said with her jaw clenched. "But we have a message for you from God," said Maryam's fellow fieldworker. It won't take more than 5 minutes." She took a deep breath, then opened the door without saying a word.
She shared with us how she felt lonely with huge responsibilities, and felt God was not faithful. "Where is God through all of these circumstances?" she asked. "Can't He send a miracle? Can't He support me by His grace?" Burdened by her circumstances, Demiana broke down crying.
Thankfully your support enabled us to assist Demiana and share the Gospel with her in a very practical way. As Demiana cried, Maryam's fellow fieldworker said to Demiana: "You know, God never leaves." What we brought for you today, you can consider a gift from Him." A gift of a sewing machine made possible thanks to your generosity.
 The gratitude on her face was priceless.
We kept on visiting Demiana. Sometimes in the visits we just listened to her, supported her without words. We always prayed together before we left. We wanted her to know that she was never alone.
Eventually Demiana, who was born into a Christian family but was not an active church member, gave her life to Jesus. She started praying, reading the Bible and teaching her children about their heavenly Father and His love and grace. And that no matter what happens, He is there for them. She is now an active member in her local church and is helping others like she was helped before.
Today, she makes enough money to send her children to school again with the money she gets from the items she makes with the sewing machine. But before she started using the machine for an income, she made a set of scarfs as a gift to the women in the church. This was her way to say "thank you" to the Lord for His provision.
Life as a Christian woman in rural Egypt is still hard for her. But now she has hope, and most importantly, she knows that the God of the universe is on her side and that He loves her. She knows that she is never alone, thanks to you.
Gifts are allocated to where most urgently needed across the globe – thank you!