Protect Christian women like Rekha from their DOUBLE vulnerability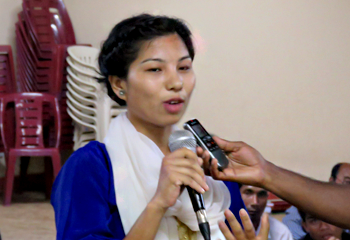 Women like Rekha live each day feeling doubly vulnerable. Not only does her faith make her a target, her gender makes her prey.
The shocking reality is that in so many places, Christian women are victims of domestic abuse, forced marriage and sexual violence.
But you can help them today.
Through your gift today, you can help provide the practical, emotional and physical care your sisters need through:
Vocational training

Literacy classes

Microcredit loans

And more
You'll empower at-risk women to provide for themselves and their families – reducing their vulnerability, easing their marginalization and equipping them to stand firm.
Thanks to friends like you, 20-year-old Rekha was recently able to attend literacy training. Being able to read improves her social standing and will help her find employment. And of course, it means she's now able to read God's Word for herself… and share it with others!
"I had never shared about my faith and about Jesus Christ to any person in my life. After this training, for the first time, I shared about Jesus Christ to my friend. She received Jesus Christ and was baptised. Now I feel very comfortable telling the story of Jesus to others."
Please give as generously as you can today to protect, equip and empower Christian women like Rekha. Thank you!