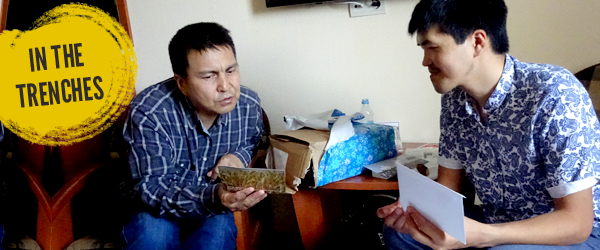 A Muslim convert says: 'I experienced God's protection'
Eldos (pictured right), a young Believer from a Muslim Background, was terribly beaten up by three radical Muslim men in an attempt to force him to return to Islam. He sustained multiple injuries, including a concussion, and had to undergo several surgeries.
He was emotionally broken and frustrated. The relatives of the attackers also threatened Eldos' family to dissuade them from going to the police to lay charges. Unfortunately, the police also tried to silence the situation.
But thanks to your support, Open Doors was able to assist Eldos and his family during his recovery. It was impossible for him to live in his village because of the media attention his case received. So he hid in one of Open Doors' safe houses. He then moved to Kazakhstan, but it was also unsafe there. So with your help, Open Doors took him to another safe house.
Sadly, Eldos had to leave his homeland due to the dangers. In June, an Open Doors team met with Eldos and his uncle, Nurbek (pictured left), and he shared with them about the attack…
"I didn't feel anger when they attacked me; I just wanted them to leave. I felt protected even during the beatings. I experienced God's protection. The attackers tried to hit [me] hard in [my] head, but they missed most of [my] head, [except my] teeth."
Today, Eldos lives in an undisclosed country where he is being cared for by Christians.
Please continue to pray for Eldos as he adjusts to life in a foreign country. Pray also for many other Christians who are forced to leave their homes or countries because of their faith.
And may God bless you as you give so generously to meet their practical needs and bring them hope!
Sign up to receive our latest communication
You'll get the latest information and updates about our persecuted family and discover ways to be part of their story by praying, giving and standing with our family of faith.