World Watch Update: Nepal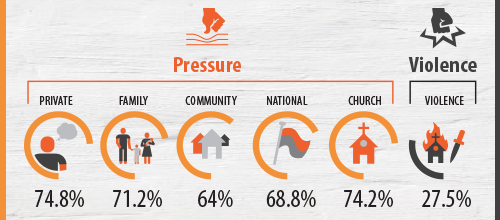 Region:  South Asia
Leader:  President Bidhya Devi Bhandari
Population:  28.8 million (1.172 million Christians)
Main Religion:  Hinduism
Government:  Federal Republic
Source of Persecution:  Religious Nationalism
Christianity in Nepal has been on the rise since the government adopted a secular democracy in 2008. Last year, Nepal landed outside the Top 50 by just a few points. But due to a deterioration in all spheres of life for Christians, and a strong rise in religious nationalism, it has entered this year's list at #25. Hindu radicals have become more active. Government officials; Hindu priests; Hindu political parties; family, friends and the community have all stepped up pressure on believers.
Churches have been attacked and Christians imprisoned. Dozens of Christians were beaten, while others had to flee their homes and villages because of threats. Another indication of a deteriorating situation for Christians was the signing of the anti-conversion legislation last August, which legitimises the persecution of Christians when they're perceived as proselytising.
Please pray for the following prayer requests:
Pray for protection and encouragement for Nepalese Christians.
Pray for wisdom as believers reach out to the majority Hindu population.
Pray that Christians won't be prosecuted for sharing the Gospel.