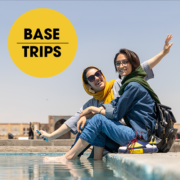 A base trip is lead by workers of Open Doors Southern Africa. You will travel with a team from South Africa to the destination country.
Central Asia: June
A small group will have the opportunity to meet and encourage believers and church leaders. On this trip you will take much needed support for the Church into this country.
People with special dietary requirements cannot be catered for to this destination.
Approximate Cost: ZAR37 710.00
Central Asia: July
Meet believers from all over the region to pray for, encourage and learn about the Kingdom work that continues despite the restrictions on the Church. On this trip you will deliver much needed resources to the Church in the region.
Approximate Cost: ZAR30 620.00
Egypt: October
Egypt has the largest Christian population in the Middle East today and represents one of the oldest Church communities in the world. Go and encourage, pray for and support our brethren where the work of the Church is crucial in this hostile region.
Approximate Cost: ZAR24 980.00
Vietnam: November
This trip will give you the opportunity to meet with church leaders, to attend church services and to see first-hand how the Church in Vietnam is responding to persecution. You will visit projects and pray for and encourage those who serve the Church in Vietnam.
Approximate Cost: ZAR37 910.00
For additional information, kindly contact Samantha at [email protected]
**Please note countries, exact dates and cost are available on further enquiry.