Thank you for helping equip believers for online ministry
In countries where meeting face to face to talk about the Gospel is dangerous, social media is a powerful alternative for reaching people who don't yet know Christ.
Yet, online ministry is still relatively new. And for the inexperienced living in closed countries, it can be just as dangerous as sharing your faith in public.
That's why your support to help provide social media training through Open Doors is such a blessing. Through your partnership, we're teaching church leaders how to build an online ministry and effectively reach others for Christ using Facebook, YouTube and other social media channels.
One believer who recently completed the social media training is 22-year-old Raaif*. He comes from a Muslim background and is now part of a small house church in rural North Africa. He hopes to use his musical gifts to reach others for Jesus online.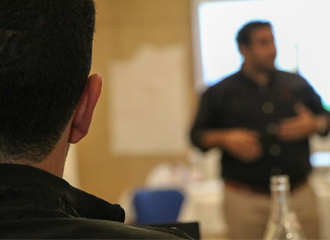 Raaif shares…
"I have started to record my worship songs in a studio, and I want to use these to reach others with the Gospel. Using Facebook, YouTube, and SoundCloud, I can do that while staying anonymous. That is what I learned during this training."
Thank you for equipping believers to be more effective – and safer – when ministering online. And please know that any gift you're led to give below helps provide critical support like this to persecuted Christians around the world.
Gifts are allocated to where most urgently needed across the globe – thank you!
*Name changed for security reasons