Thank you for giving believers like Rahaf and Noura a place to grow and thrive in their faith!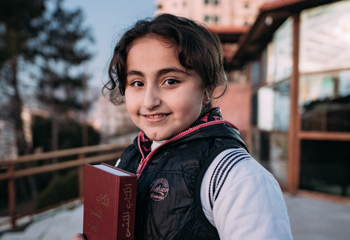 Noura* is on staff at the help centre in Mashta Al Helou. She, like everyone around her, has been subject to tragedies no one should face, but she pours her heart into her job–teaching the children at the centre about Jesus.
Noura loves to see her students enthusiastic about Jesus, but her job means so much more than that. She says…
"What motivates me to do this work is that I want to help these children. But I also see how serving them has a positive effect on me. When I teach the children about God, I see that I personally grow in my faith because of doing that."
Thanks to you, both Noura and Rahaf*–adult and child–have a place to grow in their faith despite their circumstances. It's truly a miracle and a blessing!
Thank you for giving believers like these the chance to live boldly and share Jesus with others–even when their faith has cost them the most.
And thank you for any gift you're led to give today to give more believers a chance to grow their faith.
"Let the little children come to me, and do not hinder them, for the kingdom of God belongs to such as these." (Mark 10:14)]
Gifts are allocated to where most urgently needed across the globe – thank you!
*Names changed and representative images used for security reasons