Former Boko Haram prisoner tells how you're bringing hope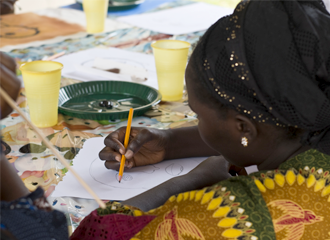 When Esther (now 20) managed to escape her Boko Haram captors, she had no idea life would continue to be so hard.
First, she was held in squalor in a remote military camp, suspected of collaborating with the extremists. She was 7 months pregnant at the time.
At last Esther was released – but even her return home was far from easy.
"At first my grandparents were happy to have me. But a lot of people poisoned their minds, saying, 'How can you allow her to enter your house? She is pregnant and the baby belongs to Boko Haram'.
"People continue to mock me and say that [my baby] is of Boko Haram. Anytime she cries, they say many cruel things about her."
Despite the torment she endures, Esther's trust in the Lord remains steadfast – thanks to the care and support of friends like you. You've helped provide trauma counselling and art therapy, which have brought Esther hope and healing in Christ.
Esther shares these heartfelt words of thanks:
"I know that God loves me, and I cannot describe all the good things He has done for me. Thanks so much for this program. I lack the words to say thank you. All I can say is: May God bless you, and thank you so much!"
If you feel led to give today, you can be sure your gift will bring hope and healing to others like Esther who are enduring untold suffering for their faith.
Thank you for your generosity!
"The LORD is close to the brokenhearted and saves those who are crushed in spirit." (Psalm 34:18)
Gifts are allocated to where most urgently needed across the globe – thank you!