Act now to strengthen India's Christians
Right now, believers across India are enduring intense persecution. And it's getting worse all the time.
Extremists openly declare that India is a Hindu country and Christians have no right to preach the Gospel. Believers who persevere in sharing their faith risk harsh consequences. Like Pastor Vipur – who was beaten with machetes by those opposed to his ministry.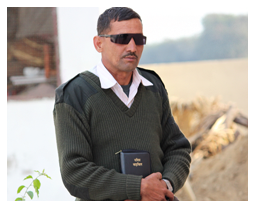 "I'm still very weak," he shares. "I've lost sensation in my face, and I'm deaf in one ear. I also have breathing problems.
"Spiritually, this has been a very difficult experience. I live in a village where people want me dead."
You can strengthen believers like Vipur with your gift below. As persecution escalates, it's vital that we reach a R614 000 goal to cover many programmes that are still unfunded – to bring help and hope to brothers and sisters under threat across India.
For their sake, please give generously. Thank you!