You're equipping future leaders of the Church in Colombia
When a child's safety is at risk because of their faith in Jesus, they often have no choice but to flee their home. This is the case for many children in Colombia, due to an increase in tribal antagonism and social instability.
Many of these children would be homeless if not for your support to provide Open Doors shelters that offer a safe environment where children can grow in their relationship with Jesus, develop talents and even learn vocational skills.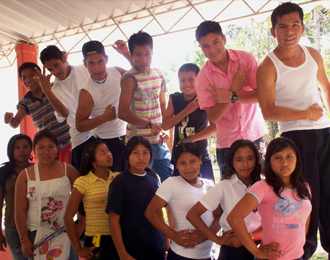 One child living at an Open Doors shelter is 16-year-old Jonas*. He is the son of a traditional sorcerer who strongly opposes his faith, which is why Jonas had to flee his community.
Now, he wants to use his gifts in music to share the Gospel.
Jonas says…
"I want everyone in my community to know about God through music."
Another child living in an Open Doors shelter is Eliberto* who wants to be a teacher.
He shares…
"I would like to return to my community as a teacher to show the children the love of God and prepare them for a better future."
Thank you for your gifts and prayers to help disciple, educate and protect the children who will one day be leaders of the persecuted Church in Colombia – and for any gift you can give below to continue encouraging believers where faith costs the most.
Gifts are allocated to where most urgently needed across the globe – thank you!
*Names changed  and representative images used for security reasons