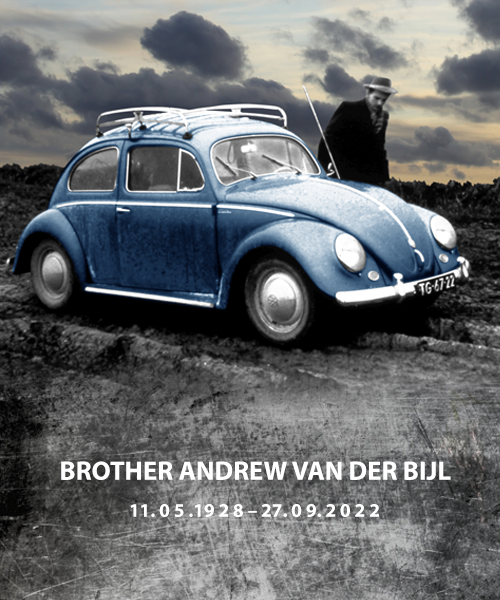 Brother Andrew, as Anne van der Bijl was fondly known, had a profound influence on the generations he was a part of. His obedience, courage and determinationbrought the reality of the persecution of Christians into the public eye.
Brother Andrew moved from one frontier to the next in finding and supporting persecuted Christians. From visiting the communist regime in Eastern Europe in 1955 to his first trip to China in the 1970s, which culminated in Project Pearl with one million Bibles delivered in one night to a shore filled with expectant believers.
He also visited Islamic regimes in the Middle East and North Africa, where there is no freedom of religion and belief.
God's Smuggler, which recounts his life and ministry, continues to inspire readers to act as a voice for the persecuted Church.
We're grateful for Brother Andrew's faith, obedience, and example. He leaves a growing legacy in the global ministry of Open Doors, reaching millions of the most persecuted Christians in over 70 countries.
With more than 360 million Christians facing high levels of persecution and discrimination today, there is much more to do. So we continue the journey he started, working out the shared vision of engaging Christians everywhere in strengthening the most persecuted so that the global Church remains God's faithful witness to the world.
Today, a network of believers continues to faithfully answer the call to pray for, be with and give to support our persecuted family of faith so they can continue to represent the Kingdom of God in their communities and nations despite persecution. May we be encouraged and inspired in our walk of faith by the faith of those who've gone before us, like Brother Andrew.
SIGN UP FOR THE OPEN DOORS NEWSLETTER
Your faith will be strengthened by theirs!
Hear how Christians around the world are standing strong in the face of persecution. Sign up to receive your FREE quarterly Open Doors Newsletter and Prayer Calendar – and be encouraged in your faith!