You're empowering Christians in Niger to stay strong against rising persecution
Niger is a landlocked, largely Muslim country of about 18 million people with a Christian population of only 65 000.
Extreme poverty and illiteracy are rampant in Niger. Less than 20% of the population can read and write. And because persecution against Christians is on the rise, believers in Niger are finding it even harder to support their families.
But through your support, Open Doors is helping empower these courageous Christians through literacy classes. Last year, 120 students participated in the training, and another 350 are currently enrolled.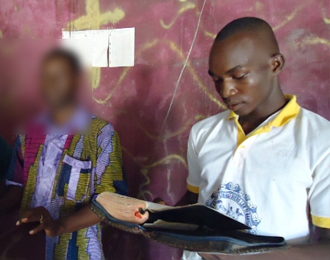 Lompo is one believer who participated in the literacy class. He shares…
"Previously I could not read and write because I thought [learning] was only for children. But now I see how important it is to be able to write for myself and read the Bible by myself. Thank you, Open Doors."
Thank you for your gifts and prayers to encourage and support persecuted Christians in Niger and around the world. And thank you for any gift you can give below to help others like them continue to stay strong against rising persecution.
Gifts are allocated to where most urgently needed across the globe – thank you!