You're impacting Islamic Asia: Believers like Henry* are finding strength and hope, thanks to you!
In Islamic Asia, a Muslim fundamentalist movement wants to implement strict sharia law and cleanse the continent of Christians. In a way, the Church has been sentenced to death. One church attack at a time. One abducted woman at a time. One abused child at a time. One martyr at a time.
For eight days, Filipino carpenter Henry* had seen nothing but blood, rape and death. Terrorists affiliated with Islamic State (IS) attacked the Philippine city of Marawi in 2017, and they held Henry captive – along with dozens of other abducted Christians. One morning, he overheard his captors talking about that day's executions. Henry was next.
Henry had no hope of surviving. "I told my fellow prisoners that we should pray to God and ask Him to strengthen our faith, because that day would be our last," says Henry.
But God provided a way out for Henry. He managed to escape, along with other hostages, through an unlocked roll-up door amid gunshots and collapsing bodies. Eight of the 18 Christian hostages didn't make it. Henry was one of the survivors.
This is a picture of the Church in many Islamic countries in Asia. The Church is increasingly vulnerable to attacks from varying types of Islamic extremists. In addition, Islamists target poverty-stricken Christians with offers of a better life if they embrace Islam, with some Christians succumbing to the pressure and converting.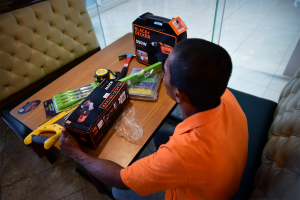 Within the Church, Christians face problems in growing in their faith due to a lack of strong biblical teaching, a lack of a relationship with God, and disunity amongst churches.
In these countries there's so much pain and tragedy – but God is working through your support to bring help and hope.
In Henry's case he still lives in a shelter; but as soon as he can go back home, he knows he can resume his work as a carpenter. Because, through your support of Open Doors, you helped provide him with carpentry tools. He simply says…
"Thank you, thank you. You're blessings from the Lord."
Through God's grace and your support, you're making a difference in the lives of hundreds of thousands of Christians in Islamic Asia. You're providing lifesaving tools such as persecution preparedness training, gatherings to foster unity, as well as emergency relief aid.
The Church in Islamic Asia has hope because of their salvation in Christ, but also because of compassionate friends like you. Thank you for caring for your brothers and sisters in Asia!
 *Name changed for security reasons.