You're helping secret believers celebrate their faith
With the support of friends like you, Open Doors holds secret Christmas celebrations in countries where persecution is the most intense. It's a chance for believers to experience fellowship, and for caring brothers and sisters like you to bless Christian families with gifts.
For many secret believers, these gatherings are the first time they and their family are able to enjoy celebrating the birth of Jesus with others.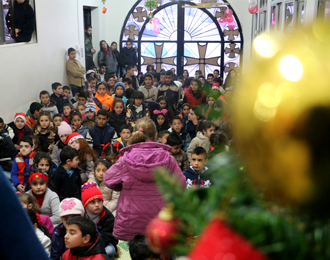 A local Christian leader in one closed country recently shared…
"We have never had a gathering like this before. No one from any [other] organisation was willing to sponsor a programme like this. We are very happy. Thank you so much, Open Doors!"
Another one added…
"All of the believers under my care had never attended a Christmas party since they came to believe in Jesus. Now they have experienced and tasted Christmas! Thank you so much, Open Doors, for doing this for us."
Your gifts and prayers are such an encouragement to secret believers. Any gift you feel led to give below will help uplift them through secret gatherings like these Christmas celebrations, mentoring and training, and by providing them with essential supplies – so they can stay strong in the face of persecution.
Thank you for your support – and many blessings this New Year!
Gifts are allocated to where most urgently needed across the globe – thank you!