You're bringing new strength to embattled believers from Iran
Saman* and Darya* were part of the same passionate and fast-growing house church network in Iran. But after many church members were arrested and imprisoned, their inner fire faded and their depression grew.
"For almost 14 years we served the Lord without any serious problems. Our group grew with new believers constantly. Darya was one of them," said Saman.
But one evening, several members' houses were invaded by the local authorities. Saman, along with some of his family, and other church members, were arrested. Darya wasn't arrested, but she made sure to destroy her church contact book.
"When I heard there'd been a raid on the men's meeting, something died inside of me. Somehow, I was disappointed in the Lord. Why didn't He protect us?" said Darya.
Following Saman's release from prison, the authorities constantly followed him, which made it impossible for him to visit other believers. Eventually, he and other released Christians left the country and found a new church, but it wasn't what they'd hoped for.
"We'd been traumatised in prison, but when we came out, there was no one to take care of us," Saman explained. "We felt forgotten by the Church and also by God."
When Darya left Iran a few months ago to get married, she met up with her former church members and was deeply grieved.
"I expected to find my old church mates even more passionate and active now [that] they were free to evangelise. Instead, I found them depressed and silent, without the longing to serve the Lord. Their suffering had a huge effect on me," she said.
Thankfully, through your generosity, Saman and Darya were able to attend a trauma-awareness training conference for ex-prisoners that was organised by an Open Doors partner. During the five-day conference, they received practical education on trauma, art therapy and biblical teaching.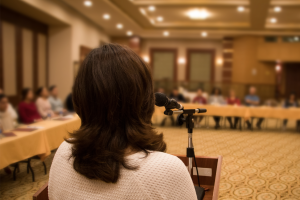 The conference helped to refresh not only Saman and Darya, but also their fellow church members. "It really helped me," said Saman. "I want to pass on this information to other Iranians in the same situation."
Darya added, "It's so good to see my church mates here. I see how they're being refreshed, how slowly the fire is being relighted. And I feel my fire being relighted as well."
When Christians who've been imprisoned in Iran are released, their struggle continues. Through your faithful support, these Christians and their families are learning to work through their trauma. Thank you!
*Representative names and image used for security reasons.