World Watch Update: Myanmar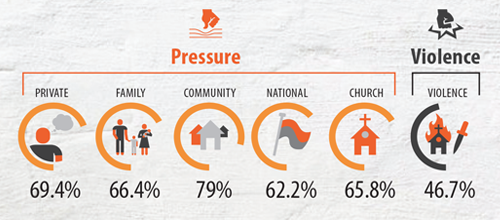 Region: East and Southeast Asia
2018 World Watch List Position: #24
Leader: Aung San Suu Kyi
Population: 54 836 000 (only 8% are Christians)
Main Religion: Buddhism
Government: Parliamentary Republic
Sources of Persecution: Religious Nationalism
In Myanmar, to be Burmese is to be Buddhist. Here, Christians are discriminated against in education and employment opportunities on a regular basis, particularly as many of them belong to ethnic minorities.
Even in predominantly Christian states, well-established historical churches are being attacked. In some instances, Buddhist monks invade the properties of a church and build Buddhist shrines within the church premises. Converts to Christianity are persecuted by their Buddhist, Muslim or tribal families and communities. More than 100 000 Christians live in camps for internally displaced people, deprived of access to food and health care.
Please pray for:
Persecuted Christian minorities, that they would lovingly minister to oppressed Rohingya Muslims, and that many hearts would be opened to the truth of Christ.
Courage and endurance for believers from Buddhist and Muslim backgrounds.
Increased religious freedom: Recently introduced laws make conversion very complicated, although not forbidden.