World Watch Update: Jordan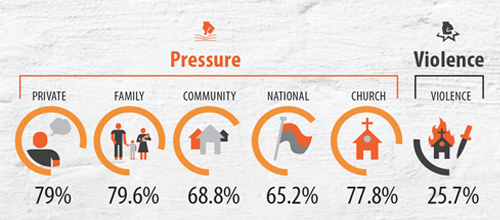 Region: Middle East
2018 World Watch List Position: #21
Leader: King Abdullah II
Population: 7 877 000 (only 1.6% are Christians)
Main Religion: Islam
Government: Parliamentary Constitutional Monarchy
Sources of Persecution: Islamic Oppression and Ethnic Antagonism
Jordan moved up six places on the World Watch List this year, due to increased violence against Christians. Believers from a Muslim Background face the greatest persecution. Still seen as Muslims, they're constantly persecuted in the hope that they'll give up and "return to their senses." Most pressure comes from families, which can lead to serious violence and even killings. Tribalism is strong in Jordan, and ethnic group leaders are also likely to influence converts to renounce their new faith. Despite the persecution, the small number of Christians from a Muslim background in Jordan is growing.
Conversely, Christians who belong to the Orthodox and Roman Catholic denominations enjoy a relatively high level of religious freedom in Jordan – though they still experience discrimination.
Please pray:
For protection and healing for Christian converts interrogated by police and abused or abducted by family members.
That the many refugees in Jordan would have an opportunity to hear the Gospel.
For Muslims to be struck by the love of their Christian neighbours and drawn to Christ.