World Watch Update: Pakistan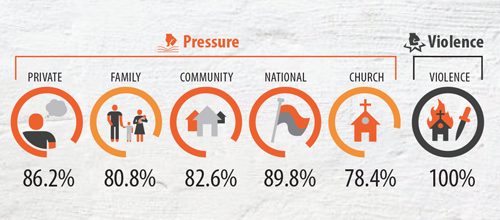 Region: South Asia
2018 World Watch List Position: #5
Leader: President Mamnoon Hussain
Population: 196 744 000 (only 2% are Christians)
Main Religion: Islam
Government: Federal Parliamentary Republic,
Sources of Persecution: Islamic Oppression, Organised Corruption and Crime
Radical Islamic groups continue to flourish and expand due to their ties with political parties, the army, and the government. They run thousands of Islamic education centres – with no state authority – where youth are encouraged to persecute religious minorities like Christians.
Blasphemy laws continue to pose a significant challenge for Christians. Christian girls and women continue to be abducted, raped, forcefully converted and married to Muslims (an estimated 700 Christian girls and women are abducted each year). Believers from a Muslim Background are ostracised and face intense persecution from their families. Please pray for Pakistan!
Pray that Pakistan's authorities and laws will protect Christians.
Pray for protection and encouragement for all believers, especially women and girls.
Pray for Believers from a Muslim Background, as they suffer the brunt of persecution.