World Watch Update: Iran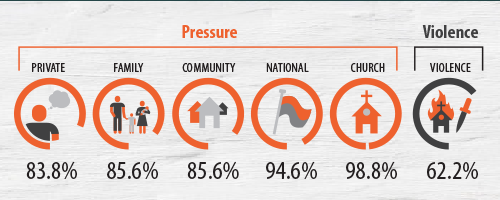 Region: Middle East
2019 World Watch List Position: #9 in the top 50 countries
Leader: Ali Hosseini Khamenei
Population: 82 012 000 (only 1% are Christians)
Main Religion: Islam
Government: Theocratic Republic
Sources of Persecution: Islamic Oppression and Dictatorial Paranoia
Christianity is considered a condemnable Western influence and a constant threat to the Islamic identity of Iran. It's now seen as an increasing threat, since Christian numbers are growing. And it's alleged that even the children of Iran's political and spiritual leaders are leaving Islam for Christianity.
All ethnic Persians are seen as Muslims. It's illegal to produce Christian literature or hold church services in their language, Farsi. If an ethnic Persian leaves Islam, they can be punished with the death penalty – although they're more likely to be imprisoned for "crimes against national security".
Pray for believers in Iran:
Pray for comfort and encouragement for those in prison, and protection and provision for their families.
Pray that God will work through Open Doors' trauma care conferences to help former prisoners recover from their horrific experiences.
Pray for protection for secret believers and underground churches in Iran, and that the Church in Iran will continue to grow.