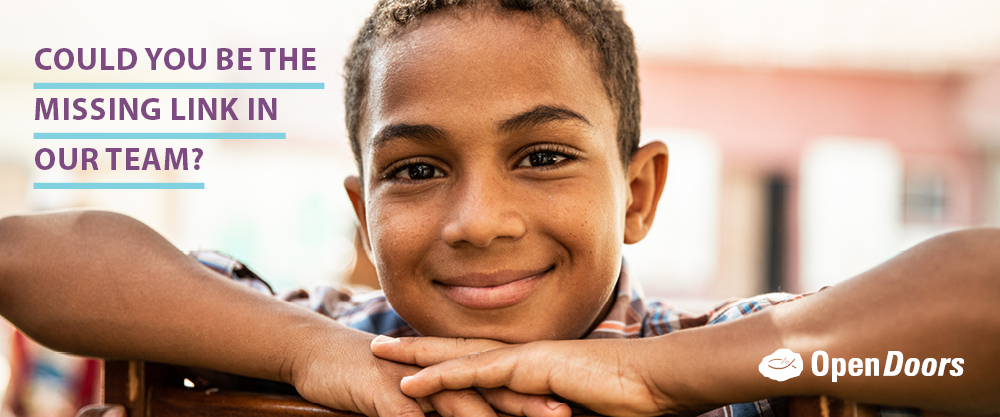 Available position: Church Volunteers' Community Organiser
The following position is currently available.
Role Title: Church Volunteers' Community Organiser
Location: Preferably based in Gauteng, Johannesburg at ODSA offices
Purpose of the role:The Church Volunteers' Community Organiser position is integral to Open Doors Southern Africa's wider community engagement strategic plan. Focusing on working closely with community volunteers this position is aimed at mobilising the Southern African church to become increasingly more active in responding to issues of persecution. As a Church Volunteers' Community Organiser with ODSA you will – – Recruit and mobilise community volunteers (e.g., church representatives) to influence their communities to be aware of, pray for and support the most persecuted followers of Jesus globally – Work alongside ODSA's church and community engagement team to develop and implement faith-based community organising training; equipping volunteers with the skills they need to engage the church and communities on issues of persecution – Network and support engagement with local churches and partners – Help develop and implement key ODSA Advocacy and Fundraising campaigns. – Coach and support existing community volunteers to act.

Relationships: The Church Volunteers' Community Organiser will directly report to the Church/Community Engagement Manager and Executive Director, but will also ralate to ODSA Management, staff and volunteer.
Time Commitment: A full-time position
Role specification and core tasks
Community Organising and Campaigning
Work closely with the Church and Community Engagement Manager and colleagues to plan and implement the community organising aspects of ODSA's campaigns and ongoing initiatives.
Identify and recruit new community volunteers.
Train community volunteers with necessary skills to take ongoing and deepening actions in ODSA's campaigns and initiatives.
Coach and support volunteer leaders as they lead and organise on-ground campaign activities and events.
Training, Coaching and Events
Implement and manage ODSA's national volunteer programme.
Recruit, train, coach, and support participants to establish community groups and act.
Present high-quality digital and face-to-face training to volunteers.
Attend volunteer meetings, events and trainings in the field where required.
Organisational Citizenship
Work collaboratively with team members, role model ODSA's Christian values and be a positive example for both supporters and ODSA staff.
Participate in the spiritual life of ODSA.
General
Carry out any reasonable duties as requested by the leadership of ODSA.
Adhere to the agreed upon Standard Operating Procedures.
Maintain an open line of communication.
Participate in all team activities, including training, retreats, and devotions.
Visit the persecuted Church at least once every three years.
Experience and Expertise
The ability to communicate well in both English and Afrikaans (a third indigenous language will be beneficial) in the following manner:
Across a wide spectrum of age groups including children (4 to 10 years), tweens (11 to 13 years), teenagers (14 to 18 years), young adults, adults and elderly.
On a one-on-one basis with leaders of schools, churches or other organisations.
Interact effectively within a small or large group setting.
Competence in telephonic and online communication.
Competence in presentation skills. '
Computer literate (Outlook, PowerPoint, Word & Excel).
The ability to listen, observe and implement instructions.
The ability to demonstrate that s/he can manage own time constructively and effectively.
Previous Experience in a volunteer management environment will be advantageous.
Valid South African drivers' license.
Individual Qualities
To be successful in this position, the Church Volunteers' Community Organiser must possess the following qualities:
Clear and demonstrable Christian commitment and acceptance of the Open Doors Statement of Faith.
Vision and passion for communicating the message of the persecuted Church.
A high standard of written and verbal communication skills in both Afrikaans and English.
Personal qualities that include integrity, commitment to Open Doors Southern Africa's mission, respect for diversity, and the ability to inspire and motivate.
Maintain a high level of confidentiality.
How to Apply
Please apply for this position by completing the application form, submitting your CV and one A4 page that briefly outlines what you bring to this role and how God has prepared you. Include the contact details of 3 references from your previous employer(s) and local church. Please ensure that your application reach us at [email protected] no later than 26 January 2022.