Your support strengthens courageous converts like Dada
The eastern DRC is a dangerous place, home to unrelenting sectarian violence and a growing Islamist presence.
And for those who convert to Christ from Islam, the warring factions and extremist groups are not the only source of opposition. Often, the threats start much closer to home.
Young 18-year-old Dada found this out within weeks of coming to Christ. He returned home one evening to find his parents furious. Shamed and dishonoured by his new faith, they threw him out of the family home, leaving him on the streets to fend for himself.
It's converts like Dada who depend on the vital discipleship training you help provide through Open Doors. Through your support, you're giving new believers like Dada the wisdom, strength and guidance they need to stand firm for Christ – no matter what.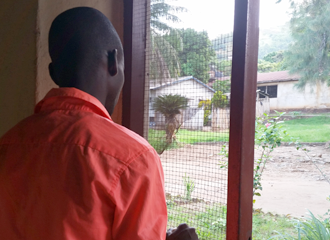 Recently, Dada received a message via WhatsApp. It contained a video depicting a man dying under torture, while his tormentors stood by, laughing. The caption read, "All of you who have abandoned the faith, see what is being done here. This is what we will soon do to you…"
Dada thanks God for friends like you – because it's your prayers and support that help him stand firm in the face of this latest threat.
Your ongoing support will bring strength and courage to more converts like Dada.
Thank you for any gift you can give today to help them cling to Christ in places where faith costs the most!
"If the world hates you, keep in mind that it hated me first." (John 15:18)
Gifts are allocated to where most urgently needed across the globe – thank you!