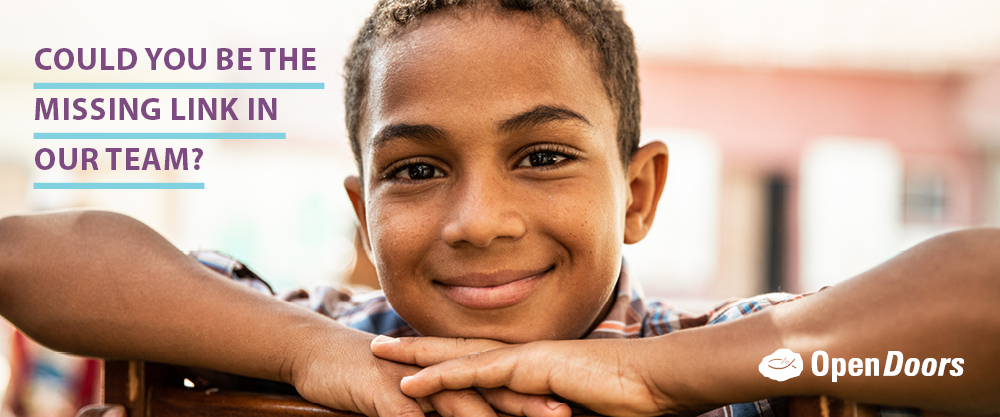 Senior IT Support Administrator
The following position is currently available
Role Title: Senior IT Support Administrator
Work Environment: Open Doors consists of full and part-time staff in South, East and West Africa, as well as the Netherlands. The staff engage in activities to support the persecuted Church in Sub Sahara Africa (SSA). Through our activities, we aim to strengthen the local capacity of the Persecuted Church and work with the local Church as our partner.
Location and travelling: This role will be based in Johannesburg Head on a hybrid basis. All applicants should be able to travel for up to 60 days/year as required by the needs of the role.
Purpose of the Role: To ensure the further advancement of the use of technology in the region, to increase the effectiveness, capabilities, and digital resources of the ministry.
Time Commitment: A full-time position (40 hours per week)
Key Qualifications
(Personality, Character, Calling, Culture)
Personal Qualities
The person will have a heart and passion for strengthening the persecuted church.
Communication skills: Can relate to people to understand their IT needs and communicate – both orally and in writing – in such a way that the essence gets across to others and is understood:

Good command of the English language
Can convey information in a clear and non-technical way.

Analytic thinking: Can approach a technical problem and unravel it into manageable parts.
Customer oriented:

Listens well to the customer/user and actively demonstrates responding to the wishes/expectations of the customer/user.

Expertise:

Windows 10/11 & Microsoft Office 365
Networking (routing switching, Wi-Fi)
Maintains high standards about own professionalism and that of others.

Planning and organisation: Can deal with multiple tasks and demands at the same time, plan and organise activities in an efficient and effective way:

Works in a planned and structured way and ensure the timely completion of activities.

Knowledge of the different cultures.
The person will be:
Committed to Spiritual Transformation and a lifestyle that models daily spiritual disciplines and discernment.
Cross-culturally sensitive, with a humility that recognizes and values different styles of communication.
Self-aware and aware of the impact their influence and related communication has on others.
Accepts the Statement of Faith, Purpose, and Core Values of Open Doors.
Able to travel for up to 60 days/year as required by the needs of the role.
Key Skills and Experiences
10 + years' experience in IT systems admin
MCSE
Office 365
A+ / N+ certification
Technical insight.
Managing a cloud environment
Willingness & ability to learn.
Key Responsibilities
Office 365

End Point management

Ensure employee's M365 devices and apps are secured, managed, and current.

Microsoft Security

Monitor and respond to security alerts on devices protected by next-generation protection, endpoint detection and response, and many other capabilities of Microsoft Defender Advanced Threat Protection.

Microsoft exchange

Manage advanced email settings, such as quarantine, encryption, and mail flow rules.

Microsoft teams

Configure messaging, conferencing, and external communication options for your users

Microsoft SharePoint

Manage sites, sharing, storage, and more for SharePoint and OneDrive. Migrate files and sites to Microsoft 365.

O365 Compliance manager

Setup and manage data classification
Information protection
Risk management

Office 365 Management

Manage, configure, and monitor deployment of Microsoft 365 Apps
Communicate with Vendor

Azure Active Directory

Identity management (User Management). Enable multi-factor authentication, self-service password reset, and edit company branding.

Support users via remote support tools
Support regional IT staff

Guidance
Coaching
Technical support
Technical training

Redstore backup monitoring
Mimecast management, configuration, and reporting

Monitor attacks and report
Assist users with blocked mails
Work with vendor to resolve issue

Adobe sign

Manage user accounts
Assist users by resolving issue and advise on improvements
Monthly reporting on usages

Manage and support firewall (Sophos) and assist IT team with the upgrades and control of the devices
Supporting end users as first point of contact and resolving incidents
Training users in using corporate systems and basic computer skills.
Vendor management

Obtain quotations
Assist with payment approvals
Communications with vendors

Installing, and maintaining workstations for the offices
Ensuring workstations and network is compliant with global and regional IT policies
Maintain network and IT equipment in local network, security updates are run, and printers are functioning.
Monitoring internet connection, liaising with provider to ensure speed is met and keeping up to date with local internet trends and developments.
Implement changes to network in corporation with AFS IT Manager
Identify possibilities for improvements to increase efficiency and effectiveness.
Appointment process and how to apply:
Please apply for this position by submitting your CV and one A4 page that briefly outlines what you bring to this role and how God has prepared you. We also would like to receive references from your previous employer(s) and local church. Please ensure that your application reach us at [email protected] no later than 10 July 2022.
Further information can be obtained from the abovementioned email address.