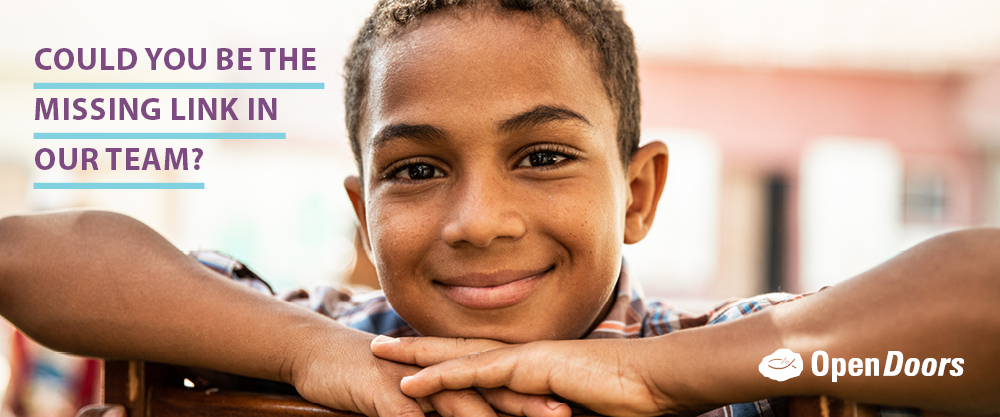 Regional Meal Officer at Open Doors Field Operations
The following position is currently available
Role Title: Regional Meal Officer
Work Environment: Africa Services consists of full and part time staff located in various countries. The staff engage in activities to support the persecuted Church in Sub Sahara Africa (SSA) and Latin America. Through our activities we aim to strengthen the local capacity of the Persecuted Church and work with the local Church as our partner.
Location: This role can be based in Johannesburg Head Office (Preferred) or one of the sub regional offices in operational countries in Africa. All applicants should be able to travel to countries across the region without any restrictions, as required by the needs of the role.
Purpose of the Role: Lead implementation of the Monitoring, Evaluating, Accountability and Learning plan in Sub Saharan and Latin American Region and to provide targeted project implementation support.
Time Commitment: A full-time position (40 hours per week)
Key Responsibilities
Monitoring, Evaluation, Accountability and Learning (75% of position focus) 
MEAL Plan Implementation: The Officer will lead implementation of the AFS MEAL plan in the region, including leading the development and validation of measurement tools for baseline, progress and Endline indicators, Analyses progress data working with the external evaluator to coordinate data analysis, and supporting the project learning strategy. The Officer will inform ongoing updates to all elements of the MEAL Plan (e.g., theories of change, logical frameworks, risk management frameworks, performance monitoring plans, evaluation strategy, and data collection tools).
Data Management: The Officer will support the establishment of record guidelines, procedures, and tools for maintaining data integrity. The Officer will enter and manage performance data through AFS's cloud-based data management system, and assist with data storage, cleaning, tabulation, and verification.
Risk Management and Value for Money (VfM): The Officer will support tracking of AFS risk register and indicators, to enable early detection of any obstacles for reaching project milestones, and to ensure AFS is implementing cost effective programming.
MEAL Technical Support: The Officer will provide ongoing technical and data management support to colleagues and partners in AFS region, to ensure the quality implementation of the MEAL plan, including through regular coaching, data quality audits, monitoring visits, and problem solving.
Project Reporting & Dissemination: The Officer will support provision of quarterly progress reporting on key performance indicators, and support dissemination of project learning to the Sub-regions and AFS countries, both through reports and presentations.
Adaptive Management: The Officer will collaborate with the Regional Program Support Department team—including the external evaluator (when needed)—to support implementation towards the Persecuted Church management staff to regularly use data and learning to inform strategic shifts.
Institutional MEAL Support: Serve as a technical resource for AFS Region as part of the global SPMM technical team and support institutional MEAL priorities such as implementing the.
institutional learning agenda, contributing to the performance measurement framework, and facilitating sharing of MEAL best practices and learning to internal and external audiences.
General Project Implementation Support (25% of position focus)
Project Support: The Officer will provide coordination for technical project activities—as implemented by the Region – such as scheduling, records management, contract approvals and management, and workshop/event logistical support.
Compliance: In collaboration with all Program Support team members, develop and maintain familiarity with Global standards rules/regulations to ensure compliance, including adherence to Global standard reporting guidelines and timelines.
Other duties as assigned to achieve SPMM objectives
Key Skills and Experiences
Bachelor's degree in a related field (e.g., economics, mathematics) or a social science with demonstrated monitoring, evaluation and learning training or specialized coursework.
Minimum of 3 years of work experience in a related field, including two or more years of experience using quantitative, qualitative, and mixed methodologies in measurement, evaluation, and learning (MEL) activities for program performance.
Experience conducting assessments and using qualitative and quantitative tools (focus group discussions, surveys, interviews).
Strong data management and analytical skills, with the ability to synthesize information to inform planning and strategy.
Excellent computer skills and demonstrated experience using advanced Excel skills. Familiarity with statistical software (e.g., SPSS, R, STATA); data visualization software (e.g., Tableau, PowerBI); and cloud-based data management systems (e.g., Salesforce, MySQL) is strongly preferred.
Prior experience providing general project support, such as implementation planning, event/workshop logistics, and contract management.
Exceptional oral and written English communication skills.
Adept at leading surveys and/or presentations with diverse audiences, including in the public sector and in the private sector. The candidate must be comfortable in external-facing roles.
How to apply?
Please apply for this position by submitting your CV and one A4 page that briefly outlines what you bring to this role and how God has prepared you. We also would like to receive references from your previous employer(s) and local church. Please ensure that your application reach us at [email protected] no later than 12 December 2022.
Further information can be obtained from the abovementioned email address.