2017–2018 Global Summer Offensive:

Your gift today will strengthen persecuted believers on our very own continent!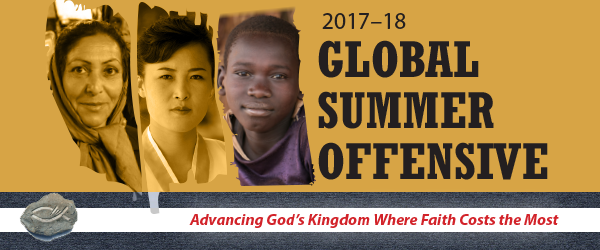 Persecution in Africa is nothing new. Believers in the Islamic nations of the north and in the Horn of Africa have long been oppressed, marginalised and mistreated.
But today, persecution on our own continent is becoming more widespread than ever before. Extremist Islam is pushing south, and Christians are facing increased hostility and pressure even in countries that don't have a Muslim majority.
Your Global Summer Offensive gift this month will help strengthen hard-pressed believers across Africa, as you help:
Provide trauma care, safe houses and emergency supplies for those in extreme danger
Equip and train pastors and churches to withstand new waves of persecution and threat
Encourage and comfort believers through delivering and teaching God's Word
Your gift will also help meet the vital R10.7 million Global Summer Offensive goal, which must be hit by 28 February to meet the needs of Christians living where faith costs the most – here in Africa and around the world.
Thank you for your generosity!