Dear Friend of the persecuted Church,
Sometimes we may feel as though our prayers for our persecuted brothers and sisters aren't making a difference, especially when we're bombarded with news reports of attacks by the likes of the Islamic State.
In moments like this, I'm reminded of the testimony of Hana, a North Korean believer who was asked whether God is at work in North Korea. She exclaimed, "Of course God is at work! Of course prayers help! I'm such a weak person. I hardly had any Bible knowledge, but God used me to explain the Gospel to others. Sometimes, God sent me on the road… and I walked for miles and miles. Until I saw some stranger, and I knew this was the person I needed to talk to. Because of him or her, God had sent me out on the road… Do you think that would be possible without God? Please, tell your friends that they need to continue to pray. God is answering their prayers."
Another believer, Samuel Lamb, who was a Chinese house church pastor was asked what we can do for them. He answered, "Firstly, please pray for us! Secondly, please pray for us! Thirdly, please pray for us! And please, don't forget to pray!"
Our persecuted brothers and sisters see the difference our prayers are making – even if we don't. So I want to encourage you to join us next month from 5 to 12 November for our International Days of Prayer to continue interceding for them.
Thank you for your continued prayers and support. You're helping change lives!
Together in His service,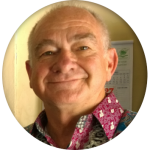 Jan Gouws
Executive Director
Open Doors Southern Africa