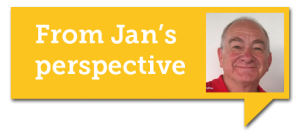 Dear Friend of the persecuted Church,
During my travels to visit our brothers and sisters in areas where following Christ costs the most, I've seen and heard many testimonies of how these persecuted believers are deeply encouraged by your support and prayers for them.
You strengthen our spiritual family to steadfastly endure persecution and to serve Jesus in countries where they're under severe pressure for their faith.
When I think of how, through your love and prayers, persecuted Christians are being impacted, I'm reminded of Ephesians 4:16 that says,
"From Him the whole body, joined and held together by every supporting ligament, grows and builds itself up in love, as each part does its work."
God has given each of us gifts for a particular purpose, and we all play a role in advancing God's Kingdom. You play a vital role in equipping His children in persecuted countries to live out the Lord's Great Commission.
In places like Africa where the Church is growing extremely fast, local leaders say there's a critical need for discipleship training. And you, through your prayers and support, are helping to make this possible.
So thank you for serving our brothers and sisters in Africa and beyond so faithfully. Your gifts and prayers are leading them to spiritual growth and maturity, so they can stand strong. On behalf of many grateful believers, I thank you
Together in His service,

Jan Gouws
Executive Director
Open Doors Southern Africa